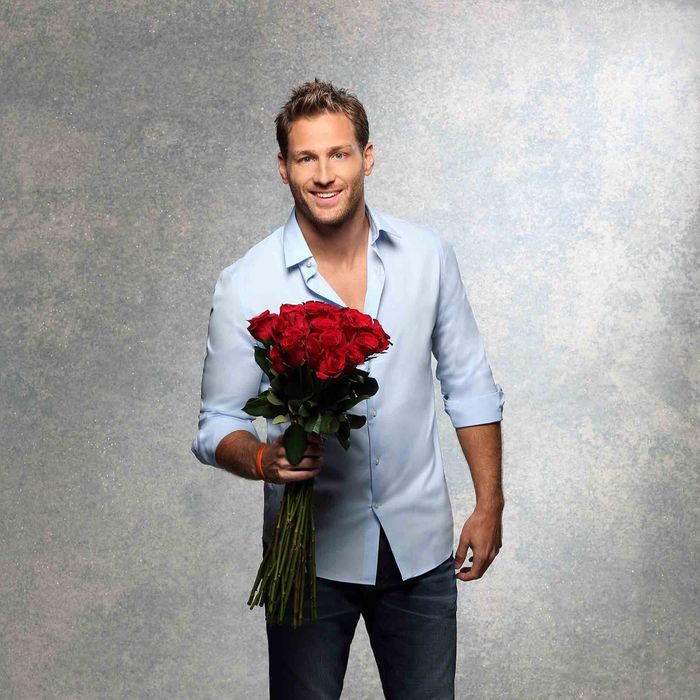 Tonight, on ABC's The Bachelor, either Clare Crawley (a 32-year-old hairstylist) or Nikki Ferrell (her 26-year-old pediatric nurse adversary) will accept a final rose from Juan Pablo Galavis. Both women are blonde, petite, eager to please, and "ready for real love"; both have spent ten weeks enduring tears, group dates, and countless bikini-clad make-outs on international beaches in order to reach this moment.
But — regardless of whom Juan Pablo selects as rose recipient and future bride — neither will actually win, and that's because Juan Pablo is the worst. The only winners here are viewers: It turns out having a terrible bachelor makes The Bachelor much more interesting.
Throughout The Bachelor's 18 seasons, the contestants have tended to be objectionable only in their homogeny: Typically the men are low-budget Disney princes — all doofy, affable, white bros with square jaws, whose top interests include making out and not wearing shirts. This season, ABC selected a "fan favorite" from season nine of The Bachelorette. Juan Pablo is a 32-year-old American-born Venezuelan former professional soccer player with a faux-hawk, a six-pack, an accent, and a young daughter. He's the show's first single father and first "minority."
He also turned out to be a PR disaster. First he raised eyebrows after he declared that there should not be a gay Bachelor, using the word "pervert" in his explanation. Then, he slut-shamed a contestant (the finalist Clare) after their illicit on-camera sexual encounter. Most recently, he mocked the mentally disabled in a tweet. ("'Not every flower can save love, but a rose can. Not every plant survives thirst, but a cactus can. Not every retard can read, but look at you go, little buddy!") For these offenses, he's been vilified on social media and celebrity-news outlets. ABC had to release a statement apologizing for  his "careless, thoughtless and insensitive" comments, and he's already lost his post-Bachelor gig on Dancing With the Stars.
Yet Juan Pablo's unpleasantness goes beyond those obvious debacles. On the show, he's creepy, manipulative, inattentive, and disingenuous; once, he took a woman on a date to some kind of EDM rave. He speaks to grown women with the same cadence he probably uses with his kindergarten-age daughter. He barely asks the women questions about themselves, and if they display any genuine emotion or bring up "relationship issues," he turns into a vacant, blinky toddler. He responds to such overtures with a patronizing "okay, okay" or perhaps "you've been doing some thinking," then proceeds to initiate a make-out.
And while The Bach has always involved a strong undercurrent of Madonna-whore complex, Juan Pablo has made it more apparent than ever before. On group dates he'll dry-hump one woman in a hot tub while the others look on, then turn around and tell other women he won't kiss them because he has a daughter and must be careful. Fatherhood — the very thing that must have made him look like an appealingly domestic Bachelor candidate — has actually made him seem even more despicable, since his child is most often treated as currency to help him get what he wants out of women.
After the slut-shaming incident, Willa Paskin, writing for Slate, declared that the episode exposed the show's weird attitudes toward sex. She wrote:  "The Bachelor continues to present itself as romantic, out to find a good man a life partner, a soul mate, a true love — all while behaving like a pimp." As Paskin points out, Juan Pablo's antics have made the show's strangeness fascinatingly apparent.
What's more, though, it's given the show's women the chance to reveal themselves in ways the women of previous seasons have not. The franchise has consistently portrayed women as googly-eyed idiots willing to swallow bland bromides while tearing each other down. This season, the women (and the viewers) are calling bullshit, and it's miraculous. As a result, we're finally seeing defiant, distinct personalities, not just the 21-year-old pharmaceutical sales reps who don't know any better than to get caught up in a highly choreographed, department-of-tourism-friendly, margarita-drenched fairytale . Everyone knows what early-date infatuation looks like, but what about disillusionment? Or indignation? Or righteous refusal to put up with a total buffoon?
Take, for example, Sharleen Joynt, a 29-year-old opera singer from Germany who was sophisticated, sexually experienced, and relatable. When she chose to leave the show of her own volition, she commented on why she and Juan Pablo hadn't forged a connection: "I wish I was more dumb," she said in her farewell monologue.
Another contestant, Andi Dorfman, preemptively dumped Juan Pablo: She couldn't abide his general shallowness after their overnight date in Saint Lucia. For the uninitiated, an overnight date includes an invitation to the Fantasy Suite — where the final contestants get the chance to spend a one-on-one night in a hotel room with the bachelor and without cameras, for a night of "whatever." Historically, the contestant will walk out the next day glowing with post-coital bliss, jabbering on about having the best night of their life and how they have never felt more complete or connected or certain that this man (who is scheduled to hump two more women in succession in that same suite) is THE ONE.
Dorfman, a feisty 26-year-old assistant D.A. from Atlanta, emerged from the suite with a forced smile, a chilly peck, and declared it "the worst date she had ever been on." She added that Juan Pablo had spent a considerable amount of time bragging about his previous night with Clare. Subsequently, after Dorfman was informed that she had "barely made it to the final round," she told JP he was an asshole and left the show. Twitter erupted in support.
It wasn't just Joynt and Dorfman, though: It was all of this season's women. The "Women Tell All" episode is normally framed as a chance for jilted lovers to air their drama and feuds with each other. But last week's episode marked the first time in the history of the show that the women were more like a support group, with the man as a recipient of seething hatred. (In part, this was probably a way for the producers to address the anti–Juan Pablo sentiment on social media.) Among their complaints: that it was "obvious he didn't care about me," that he played blatant favorites, that he neglected some women and was, in general, a selfish prick. With a common enemy, the contestants were unified: "We came here for a husband; he came here to find a girlfriend," one contestant said. And, in an unexpected twist, the women even began defending each other, e.g., collectively reassuring single mother Renee that Juan Pablo respected her. They formed a weird sisterhood of those who had survived a brief encounter with Juan Pablo.
It almost made you feel bad for the guy, who sat sweating, blinking vacantly, unable to really defend himself without looking like an even bigger jerk. Almost. Because finally, after 27 seasons of the artifice, sunsets, and evening gowns, viewers got to see what actually happens when The Bachelor is vulnerable and exposed — it wasn't pretty, but it sure made for good television.