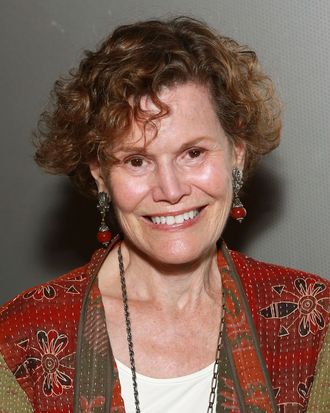 Photo: Robin Marchant/Getty Images
T Magazine recruited Judy Blume and Danny McBride (what would you give to sit between them at a dinner party? I'd give so much!) to review five new things. And Blume's plucky practicality would not be deterred by semi-purposeless trend items!
The Chanel bag is clearly not suitable as an accessory, but Blume proposes that it can function as some sort of decorative art:
It weighs 100 pounds — so, so heavy. It reminds me of Santa Fe in the '70s, when I lived there. I could hang it on my wall as an objet and be very happy looking at it. But I'm little, and it just about took me down.
Danny McBride said the Moncler Lunettes (designed partially by Pharrell) "look like something one of Judy Blume's characters might wear." Blume was set on using them for a headband:
I love the feel of them, but I could never wear these because they have red lenses and I live in Key West. I would use them on top of my head to hold my hair back. They look pretty cool.
For the beverage, her husband had to drink the beer (she has reflux) and she'd rather stick to her usual all-white choice for her sheet set, but she would consider giving the pillowcases as a gift.
What else would you like Judy to review? I'd like her to review this spangly visor.