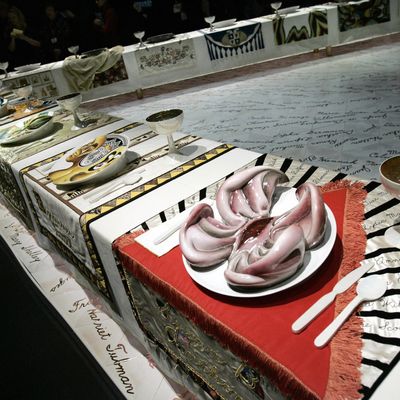 Photo: STAN HONDA/AFP/Getty Images
This year marks the 75th birthday of the pioneering feminist artist Judy Chicago, best known for her 1979 art installation The Dinner Party. Currently on permanent display at the Brooklyn Museum, the installation features a triangular table with place settings for 39 legendary historical and mythological women, as well as the names of 999 additional women written on the floor tiles.
But in the 35 years since Chicago created that landmark work, women have remained underrepresented in the art world. Only a third of the artists featured in this year's Whitney Biennial (which bills itself as "one of the broadest and most diverse takes on art in the United States") are female; and a report released earlier this month found that only 24 percent of the U.S. and Canada's most prominent art museums are run by women, who, on average, make 29 percent less than their male peers. Chicago's new book, Institutional Time, (out this month) is a critique of studio-art education and discusses the factors that continue to make the art world a hostile environment for aspiring female artists. By phone from her home in New Mexico, Chicago spoke to the Cut about her teaching career, campus culture, and getting told you paint like a man.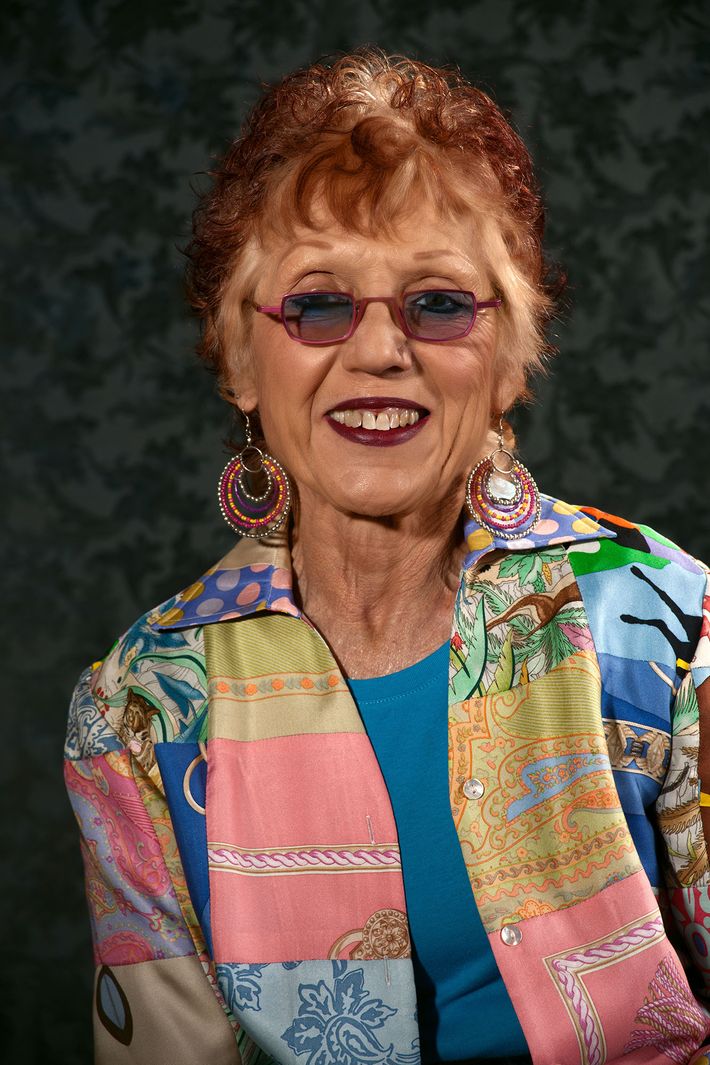 You left academia in 1974, after establishing the first feminist art programs at California State University–Fresno and CalArts, to pursue your own work. What motivated your return to teaching in 1999?
Going back to the early '90s, I was getting letters from young women all over saying that they weren't being supported in their art-making at the schools they were going to, that they weren't learning anything about the feminist art movement, and they still weren't learning a lot about women's history or women's art. You know, if they went and took a women's-studies course or a women-in-art course, then maybe they would get that, but certainly not in the mainstream curriculum. They had to seek it out and certain schools had different amounts of material available. I gave a commencement speech at one school in the Midwest where they only offered a course on women in art once every three years. CalArts, where I took my Fresno program [in 1971] — the program that Womanhouse came out of — basically threw out the archives of the feminist art program. There certainly had not been a transformation of curriculum, which was very upsetting.
In Institutional Time you mention that in many university art departments you encountered the notion that feminist art is passé, or the assumption that we live in a post-feminist world. What effect does that attitude have on students?
Oh, I cannot tell you how widespread that was. What happens is that many female students don't know what to do with their impulses. And if they're interested in working out of their own experiences as women, either they're not guided, they don't get any help and support, or they're actively discouraged. There's this incredible disconnect.
You also observe that when many universities became co-ed, there wasn't a lot of thought given to the fact that women were transplanted into an entirely male-centric curriculum.
I mean, the first colleges for women were all-women's colleges, with a totally male-centered curriculum, which is even more bizarre. But even in the '70s when there started to be pressure to add women's-studies courses and feminist-theory courses and women-in-art classes, nobody ever thought, "Oh, men should study this, too." That has still not happened. I don't see why men should not study our accomplishments — I have no idea on what basis that continues to hold sway. Yeah, if you want to seek it out, you can go seek it out, but for everybody to actually transform the curriculum so that both male and female students study an equitable curriculum? That seems to cause panic in the streets.
You said that the female students you worked with at Duke seemed particularly distracted and unable to concentrate. What did you attribute that to?
Well, it wasn't very mysterious. Duke is a very stellar school, at least for the boys. It offers a stellar education, and a lot of the women came from private schools and all-girls schools, where they were used to a lot of post-feminist rhetoric: that equality was now theirs, and they could do whatever they wanted, and that it wasn't necessary to study feminism or women's history, because after all, they were equal.
So what they encountered at Duke made them really confused. They weren't being called on in classes; the boys had a habit of printing the pictures of all the incoming-freshmen girls in little black books and passing them around and seeing who could, quote, "get them to bed first." Some were sexually assaulted — they were just having these terrible experiences, and they had no context in which to understand what was happening to them. They didn't have a background in consciousness-raising or in feminist theory, and so as they described themselves, they started withdrawing, dampening themselves down, getting afraid to go out of their dorm rooms — it was terrible. I was completely shocked. I mean, this was Duke in 2001.
You've said that you use your own art-school education as an example of how not to teach women. What was your experience like?
My painting teachers hated my imagery, and they also hated my sense of color. They made me feel like I had the most horrible color sense, and of course, color is now the hallmark of my work. I had to pull back from both the imagery and the color or else I simply would not have gotten my masters.
It took me a long time to get over that, because I encountered many of the same attitudes from graduate school in the L.A. art scene of the '60s, and because I wanted to be taken seriously as an artist there was no way I could be myself as a women openly at that time. I mean, back then the best compliment a woman could get was, "Oh, you paint like a man." Excuse me?
In the book you discuss conflicts with university bureaucracies and uptight faculty members. Have you continued to see the same resistance to your pedagogical philosophy that you were initially encountering?
No, absolutely not. But I'm actually not sure why that is. In the institutions where I've worked, I've had a tremendous amount of autonomy and independence, which most professors do not have, so I don't think I can really judge adequately whether the positive response to my tenures means that everything's much better, or just that I'm a famous artist, so people wanted to work with me. I will say that there's been a dramatic change in consciousness around issues of gender and diversity. There's no question about that. The problem is that those changes have not been sufficiently translated into institutional change.
What will the kind of institutional change that you're talking about require?
I'm focused on university studio-art education and what I call for in the book is a national or international dialogue about what would constitute an equitable and diverse studio-art curriculum. Right now there's no agreed-upon curriculum, and there's no requirement for people to be able to teach at the university level. As I point out in the book, even kindergarten teachers have to have a certificate to teach — at the university level sometimes artists are tenured based on the fact that they were in the Whitney Biennial. I can picture it, but I think it should be the product of a concerted effort to create a transformed curriculum. In terms of the art museums, that's easy: They just have to allocate 50 percent of the space to women. That's simple. [Laughs.] Do you think that's going to happen in our lifetime?
Chicago's early painting and sculptures will be featured in an upcoming retrospective at the Brooklyn Museum, "Chicago in L.A.," which opens April 4.