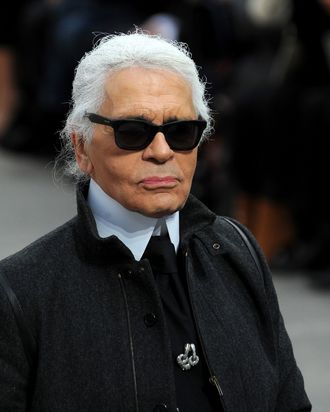 Photo: Francois Durand/Getty Images
The world has given us another interview with Karl Lagerfeld, filled with little jewels and Karl-isms. Speaking to Elle about his new fragrance line, Lagerfeld talked about beauty secrets, the peak age, lounging flawlessly, and creating a good-smelling cloud of peripheral scent. Here is a collection of his best quotes:
Hagdom starts at 25:
The day I was 24 years old, which was one hundred years ago, my mother said to me: From now on, it is downhill.
Beauty secrets are best delivered with emphasis:
Never. Go. To. Bed. Without. Washing. Your. Face [Slaps table after each word]. And then put some cream on it. It will last longer.
Smell good by scenting things and others around you, never yourself:
I put it on the towels, on my bathrobe, on my shirts, on the jeans, on my bed, on my sheets, all over the place. But not on my skin.
What? But everyone puts scent on their wrists:
Especially not on wrists. It's very démodé. Nobody does it. Now they SHHHHHHH [mimics spraying it everywhere].
But scented résumés would probably be okay?

I also spray it on paper, which takes fragrance very well. It is a famous thing, to put perfume on letters, but you don't only have to do it with love letters.
Lounge flawlessly at home:

You have to be as flawless at home as when you go out.
Be obsessed with yourself for other people's sake. It's only polite:
Everyone can make an effort. Narcissism is boring, but you can't let yourself go. It is very impolite for the others.