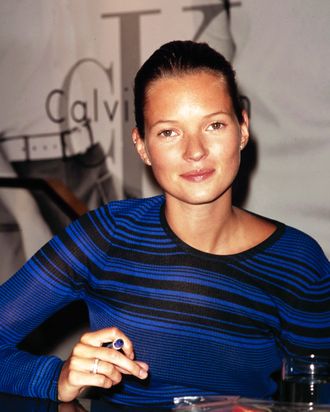 Photo: Time & Life Pictures/Getty Images
If it begins with the doorbell ringing at 8:45 p.m. on a "miserable Tuesday" and ends with an all-caps declaration of enduring love, it must be Kate Moss's first music column for British Vogue.
She's reviewing the album of her good friend, George Michael. She gets very into it, emotions-wise. Before the end of the first song, the hairs on the back of her neck are reportedly standing up. She writes:
You've Changed feels fragile and honest; it almost makes me cry. For me, it's the vulnerability, openness and richness of his voice that does it. The depth of where that comes from touches you in a place that you can't even begin to understand and all of a sudden it's not just a song any more; it becomes an emotion and it takes you into another dimension. That's George's voice.
That's only the second song, so you can imagine the emotive depths that Moss continues to plunge into. She ends the review as all seasoned music critics do, with a lil' shout-out to the close friend/reviewed artist. In the words of Moss: "I LOVE YOU GEORGE."