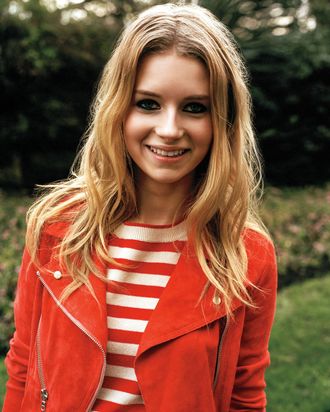 Lottie Moss — Kate Moss's 16-year-old half sister, who recently launched her modeling career — will probably be in a Mario Testino spread and a Saint Laurent campaign within the year. But for now, she wants you to know that she's really just a normal teenager.
In a profile in the April issue of Teen Vogue, Moss discusses her interests — some of which are charmingly dated. Here they are, in no particular order: scrunchies, TopShop, horseback riding, Justin Bieber, and The Hills. Or maybe she just knows how to butter up an interviewer:
"I'd really like to work at Teen Vogue," she insists. "You are obsessed with The Hills," her agent interjects. "I love The Hills!" Lottie affirms. "I find it so funny — Heidi and Spencer. I'm definitely a Lauren Conrad fan. Watching them all work and everything they did …" she says, trailing off. "It's just really fun and interesting." 
What would a Hills sequel starring a British model be called? The Moors?