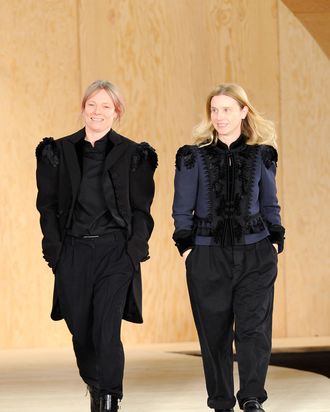 Photo: Arun Nevader/Getty Images
The new creative team behind the rebooted Marc by Marc Jacobs (MBMJ) has proved a critical success so far — and maybe that's because there's a little friendship magic at work. At the Vogue Festival in London on Saturday, we learned that Katie Hillier and Luella Bartley are not just long-term collaborators, but quite possibly soul mates too.
Hillier (creative director) and Bartley (womenswear design director) sat down for an onstage interview that was supposed to be about work, but became unintentionally heartwarming. The pair were reunited at Marc by Marc Jacobs last year — but they've known each other since 1999, when Bartley was running her own label, Luella.
"We were introduced to each other by Katie Grand," said Hillier. "I had made a beaded key ring that Katie had seen, and she said to me 'You must meet Luella — you've got to show her these things because she'll love them.' So we met each other in a pub. We had a drink, and then about an hour later we were in [London haberdashery store] V.V. Rouleaux buying some ribbons. And then on the Monday I went to work with her. There was an instant spark between the two of us — a kind of trusting and inspiring spark."
Throughout the interview, the pair were full of praise for one another. "I can say something and before I've finished it, Katie knows exactly what I'm talking about," said Bartley. "She's the smart one," countered Hillier. "She will come up with a brilliant story … and it's very academic, and cool, and cultural, and relevant."
There was also some teasing about their differences — Hillier is organized and tidy, while Bartley is messy and freewheeling. But opposites attract. "I feel very connected [to her]," said Bartley solemnly. "Even when we're not together, there's a real connection there, all the time."
See Katie Hillier and Luella Bartley being lovable BFFs as they explain the first collection here.