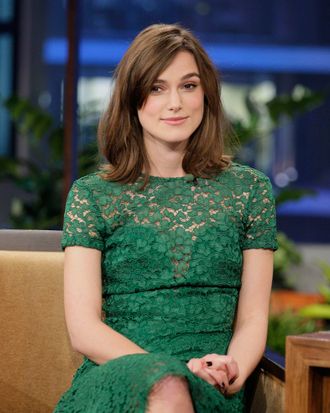 Photo: Paul Drinkwater/NBC
In an interview with The Telegraph, Keira Knightley bemoans her particular pigeonhole: being typecast as a 19th-century damsel in a corset (Anna Karenina, Elizabeth Bennet, piratess of the Caribbean). But Knightley knows that if she really wants out of the crinoline and lace she is going to have to resort to harsher tactics. She reports that fancy clothes are destroyed while in her possession. Don't costume her in lovely garments, for she is a veritable bull in a china shop of pretty frocks.
First, her beloved Chanel wedding dress was a victim of her career ambitions and red wine:
I didn't quite realize the extent of it until I got home. It's quite impressively splattered. But, hey, a good night is a good night and when a dress has had its time, maybe it's had its time. I'm pretty sure I can get it out but, if I can't, I'm happy with the memory of a good night and the story of how the dress got destroyed.
Next, the handle of a Chanel purse would face her wrath, ripped off at a casual lunch with a friend. Knightley also gives some constructive hints about clothes she would like to be wearing. Those include dungarees. Oh, she adores them, she's "a massive fan of them," she goes on and on about them. Also, here are projects she is interested in: a remake of Modern Times (Knightley as Chaplin); Fresh Princess of Bel-Air (role of Will "the Fresh Prince" Smith, please).