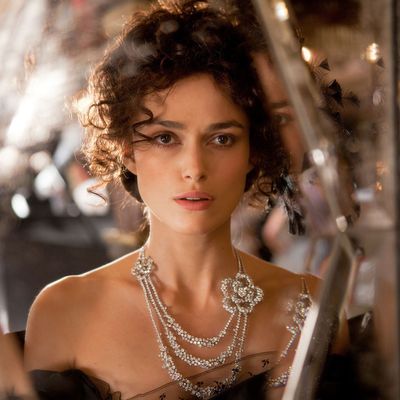 Photo: Laurie Sparham/Focus Features/Everett Collection
Keira Knightley's protagonists have fates similar to those outlined by the mnemonic device for Henry VIII's six wives: divorced, beheaded, died; divorced, beheaded, survived. She tells DuJour magazine:
After Anna Karenina, I suddenly realized that for the past five years, in all of my films, I either died or was subjected to situations that were each more horrific than the last. So I wanted more positive vibrations! And nothing could correspond better than this New York fairy tale of a young woman who tries to finally have the life that she always wanted.
That one, her upcoming romantic comedy, is called Begin Again. Her previous movies since 2009 are: Never Let Me Go, Last Night, London Boulevard, A Dangerous Method, Seeking a Friend for the End of the World, and Anna Karenina. Not to reveal the endgame of these individually, but instead ruin them collectively, here's what Knightley's characters contended with: lifelong deception, marriage-long deception, affairs to remember, hysteria, an apocalypse, and death. Further reason she's ripping fancy clothes as career protest.