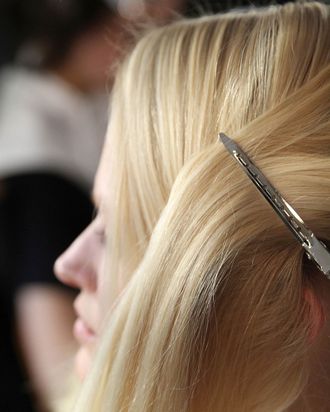 Photo: Mireya Acierto/Getty Images
Colorists often recommend that clients get a hair gloss between dye jobs because, ostensibly, it keeps your color looking crisper and fresher for longer, thus prolonging your next salon visit. The purpose of a gloss is to deposit just a hint of color, lock in your existing color, and provide shine. The problem is that getting a professional gloss usually involves going to the salon for another visit between colorings (and spending more money), which is exactly what you're trying to avoid by extending the lifetime of your color. It really is a conundrum.
But now you have some options to bridge the gap between dull, drab color and dragging yourself to the salon an extra time. Rita Hazan and John Frieda both recently launched new versions of at-home glossing products. (John Frieda previously had a "glaze" product, which they seem to be phasing out, and Rita Hazan currently has shine-enhancing glosses on the market, in addition to these newer color-specific glosses.) These new glosses will supposedly deposit color, tone down brassiness, increase depth of color, and increase shine — they're customized for your specific color. But do they work? As a person who hits the salon every five to six weeks for color and avoids chlorinated water like the plague, I needed to try them out.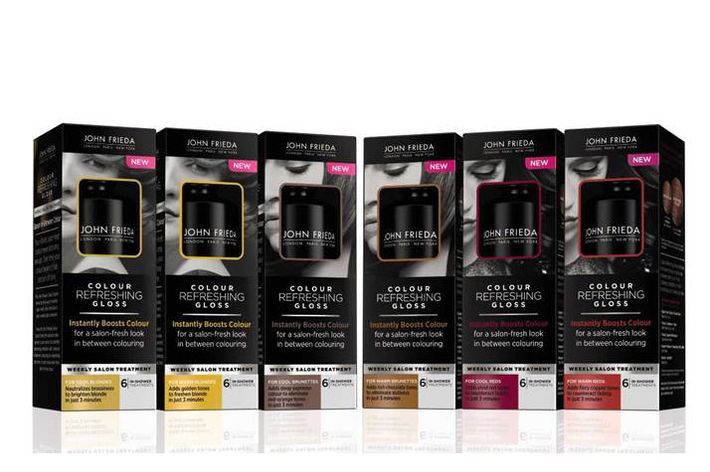 John Frieda Colour Refreshing Gloss, $11.99: This one comes in six color choices (warm and cool blondes, reds, and brunettes) and you're supposed to apply it once a week. One bottle will last you through a six-week color cycle. At the time I tried this, I was six weeks into growing out bleach, which my colorist was transitioning out with cool-blonde highlights on top. I was overdue for color, so when I tried this my color was an unappetizing, dull light blonde.
The gloss for cool blonde is purple-tinted, which counteracts brassiness. I was leery of this, because I once overdosed on purple-tinted blonde conditioner and turned my hair lilac-ish. But I followed the instructions (dispense a quarter-sized amount and spread through the entire length of hair three to five times, leave on for three minutes, then rinse), and stepped out of the shower expectantly. 
The first thing I noticed was that my hair was incredibly soft. I had actually forgotten to use conditioner, but I didn't need it. Then came the moment of truth. I dried my hair, and noticed the color was definitely perked up and more, well, sparkly. It had a glint that I hadn't seen in weeks and no hint of any purple.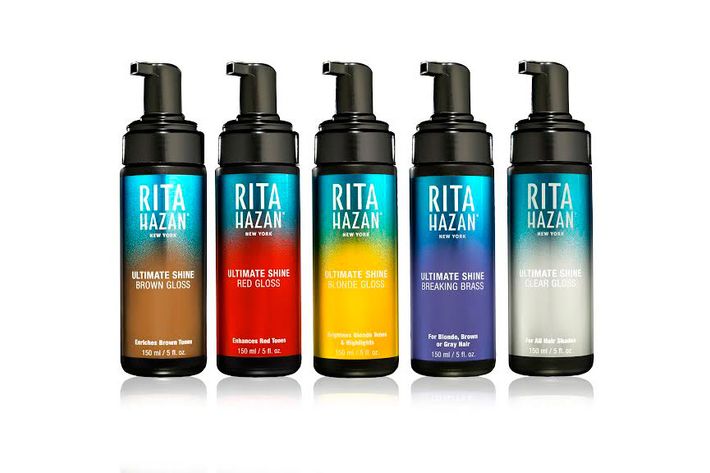 Rita Hazan Ultimate Shine Color Gloss Collection, $26.00 (available this month): A few days after my positive John Frieda gloss experiment, I went to see Taylor Tomasi Hill's newly revealed colorist, Gion Vincent, with the intention of going red. Because of my extreme skin pinkness, he dissuaded me, and instead gave me a warmer blonde, which he deemed "glamorous blonde with strawberry highlights." I also call it "Jessica Simpson blonde."
The Rita Hazan glosses come in five versions — blonde/highlights, brown, red, brassiness-reducing, and a clear gloss. She advises that you use them two to four times per week. I waited three days after my initial blonding to try out the "blonde" version, and I've used it twice so far. 
I pumped out a handful of the frightening bright-yellow foam and left it on shampooed hair for three to five minutes, as instructed. It was not quite as softening as the John Frieda version, so I used conditioner afterward then dried my hair. Again, my hair was freakishly shiny, and I skipped my serum that day — a thing I rarely do. I've since used it once more with similar results. I was worried that it would deposit too much yellow and that my hair would start looking like Lisa Simpson's, but so far I still have a lovely mixture of cool blonde with warmer, golden segments. The results were a bit more subtle than the John Frieda version, probably because I tried this gloss during the first week of a new color rather than when I desperately needed to go in for a touch-up. 
While the results may be subtle, the reasonable price (and the shine) are worth cleaning out a spot in your crowded shower for glosses. But, for me, the John Frieda one wins by a nose — if only because of my laziness (once a week opposed to two to four times) and affordability (it's half the price).