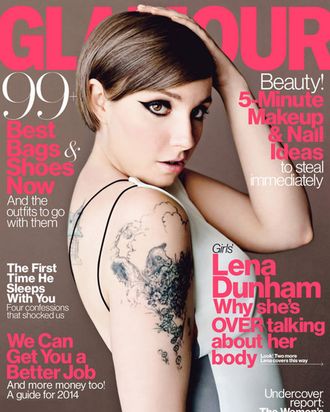 Lena Dunham is on the cover of her second Condé Nast title of 2014: Glamour's April issue. She looks so beautiful that it's making us suspicious. We, the writers of the Cut, demand the un-retouched photos!
Just kidding. Just kidding. But seriously, Dunham looks great in the '60s-inspired, mod-themed shoot — appropriate, since she reveals the retro influences she channels while shooting her fellow actresses for the show:
I've always been incredibly attracted to pictures of my parents [the artists Laurie Simmons and Carroll Dunham] in the 1970s. That aged photograph palette seems to give an importance to their twenties. So I was like, I'd like to make something that shows my twenties through that beautiful soft-focus lens. Also, I get very fetishistic when I'm shooting the girls — especially Jemima.
Congratulations on your controversy-free cover, Lena.