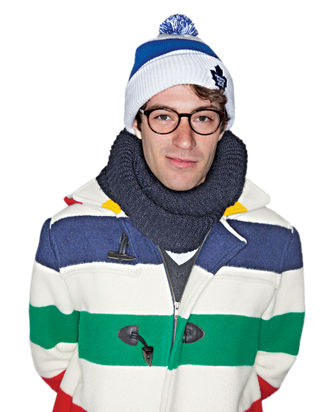 Photo: Lucas Michael/New York Magazine
With that hat, I assume you're Canadian.
Yes, I'm from Toronto. And then moved to Boston to go to Harvard. Now I live on the Upper West Side with my wife and write about arts and culture for different places.
Did you overlap with Zuckerberg at Harvard?
Not really. I missed most of those people. I was friends with Facebook User No. 7, which gives me absolutely no street cred.
What's living on the Upper West Side like as a 20-something?
When we first got here, it was a lot of strollers outside of Sarabeth's—now you're seeing some more plaid, more young people.
Favorite haunts?
Zabar's. People need to know about their amazing tomato sauce; it's only $3.99. Oh, and my Columbia Journalism School friends and I would always go get Chinese food and free wine at Silk Road Palace, before it closed. It was essentially a bunch of unemployed journalists who wanted to be the next Nicholas Kristof drinking Franzia.
Lightning round:
Rent: "Much less than it should be."
Least favorite part of the city: "The West 4th Street subway platform in the summer is the worst place in the world."
Number of pets: One. "A black cat named J.B."
Most expensive item you own: "This Hudson Bay coat. It was a gift."
Cups of coffee a day: None.
Typical breakfast: "Nothing. I don't like to eat in the morning."
Favorite building: The Paris Theatre. "And I love how they show only one movie for the whole month. If you don't like it, you're out of luck."
*This article appeared in the March 24, issue of New York Magazine.