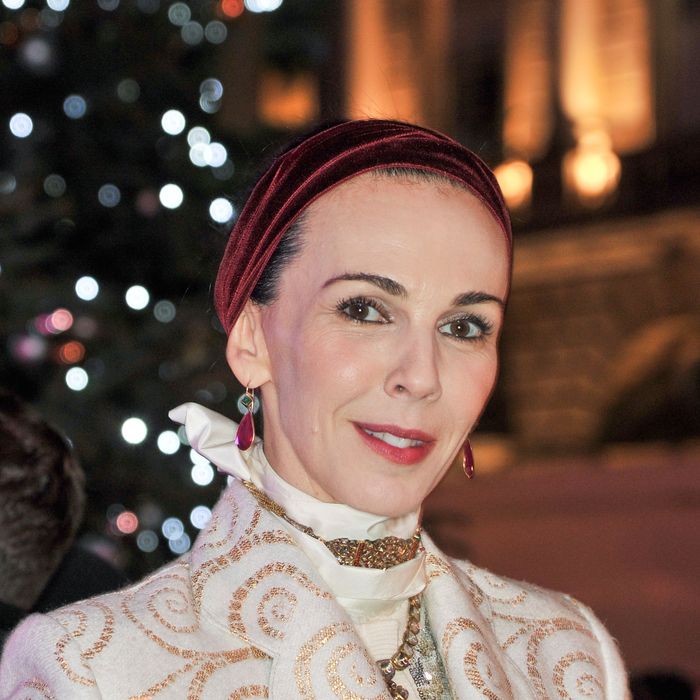 Photo: Nick Harvey/Getty Images
L'Wren Scott tragically passed away yesterday, of apparent suicide. Scott was a well-known designer, a former model known for her statuesque beauty who worked with Chanel and Thierry Mugler; she was a well-respected stylist who worked with Herb Ritts, Nicole Kidman, Julianne Moore, and Ellen Barkin; she was a glamorous, mild-mannered woman, beloved and respected by many. She just happened to have a famous boyfriend. But when news of the tragic incident broke, she was first and foremost "Mick Jagger's girlfriend."
In the first wave of stories about her death yesterday, several news outlets focused squarely on the fact that she was Mick Jagger's girlfriend rather than anything else. The New York Times tweeted: "Mick Jagger's Girlfriend Found Dead, Official Says," while TMZ chose the crassly sparse headline: "Mick Jagger's Girlfriend Hangs Herself." BlackBook's headline was "Breaking: Mick Jagger Girlfriend L'Wren Scott Found Dead." The BBC, NME, the New York Post, and others all had headlines leading with the news that the girlfriend of Mick Jagger, not L'Wren Scott the designer, had killed herself.
The backlash was immediate. Tom Hawking at Flavorwire took other outlets to task for their insensitive reportage. Harper's Bazaar executive editor Laura Brown reminded the New York Times that Scott had an actual name:
While others reacted with hashtags like #everdaysexism and #disrespect attached to their complaints:
As the day progressed, tributes emerged by Amy Larocca, Robin Givhan, and Suzy Menkes that encompassed Scott as a person, friend, and designer. Her friends came forward with heartfelt words memorializing her. The ever-important conversation about mental health and seeking help also emerged. But in conjunction with those moments, the Associated Press posted a list of  Mick Jagger's other famous girlfriends and wives (besides the one who just violently and tragically took her own life, you mean?) and others reported "breaking news" that Jagger had dumped her weeks ago.

In one sense, to those who follow celebrity and music as opposed to fashion, yes, Scott was the longtime partner of Jagger. But in life, she defined herself as not a hanger-on, not as a fame-whore, not just as one half of a relationship, but as L'Wren Scott, a woman who pulled herself up by her incredibly chic bootstraps and became an entrepreneur.
In 2008, in a profile in New York, Scott said, "I just want to be known for what I do, not who I know." And again in a 2013 interview with the London Times, she said: "I don't court that life. I'd rather be a worker bee. I'm a fashion designer. I don't want to be defined as someone's girlfriend. You always wonder if people will pay attention to the hard work that goes into what you do. And when you're taking on something on your own, it's your company, your investment — your life."

Overall, the media failed her.

The incident suggests larger problem of how obituaries treat women. Last year, the Women's Media Center published a paper titled "The Status of Women in the U.S. Media," which chronicled how women were memorialized in newspapers and news outlets. In 2012, in the top newspapers (the Times, the Boston Globe, etc.) 77 percent of obituaries were of men while only 23 percent were of women. The paper also noted that "obituaries have always been male-heavy. In 1972, a typical female obit was two paragraphs, and spoke not of the deceased's accomplishments but of those of her husband and sons."

The incident shines a light on how famous women are portrayed after they die. For example, when rocket scientist Yvonne Brill passed away last year, the New York Times obituary waxed on not just about her remarkable achievements in science, but her "mean" beef stroganoff, and how she "followed her husband from job to job and took eight years off from work to raise three children."

A famous woman died yesterday. A woman who made her own contributions to the world and the people in her life. As news surrounding her death continues to break — how Mick Jagger is reacting, what may or may not have contributed to her decision — the entirety of her personhood is what we should remember first and foremost.