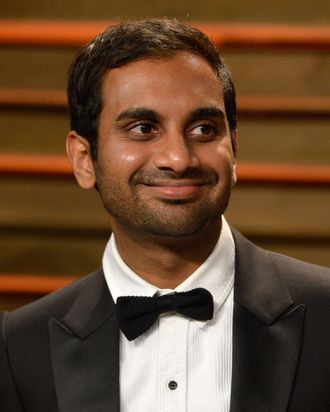 Photo: Pascal Le Segretain/2014 Getty Images
Since landing a $3.5 million book deal this summer, Aziz Ansari has announced grand plans for his writing project. "It's more like a sociology book" than the usual comic memoir, he explained to BuzzFeed last month, likening it to the works of Malcolm Gladwell. To prove that his book (which is a companion to his current "Modern Romance" stand-up tour) will indeed be the research-heavy tome he's been promising, Ansari has been putting in the legwork: In addition to collaborating with NYU sociology professor Eric Klinenberg, he's now researching the book on Reddit.
On the sub-Reddit "Modern Romantics," Ansari is crowdsourcing every digital-dating dilemma you can think of — such as, "What do you do when someone you're not interested in asks you out by text?" and "Do you ever strategically 'wait' to text someone back, in order to make yourself more desirable?"
The results are highly entertaining. Watch your back, Gladwell.