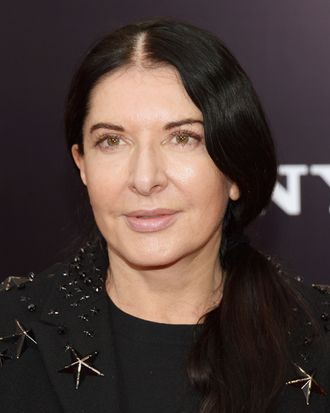 Photo: Michael Loccisano/Getty Images
By now, the entire world has debated Kim Kardashian and Kanye West's Vogue cover: A few have threatened to cancel their subscriptions, others have dissected North's peeing face, and Barbara Walters has pointed out that the cover is not exactly a Medal of Honor.
But there is one person in the world who has just emerged from a (literal) cone of silence and wants to know what all the fuss is about.
"I have not seen it yet," Marina Abramovic told the Cut at a party for the Campana Brothers and Melissa Shoes on Thursday night. "I have been in the countryside the last ten days. It just came out? How [does] it look?"
Abramovic is busy preparing for a performance at the Serpentine Gallery in London this summer. "So, when I do this, I cut everything off and just go train for this piece," she said.
Needless to say, she hadn't yet heard the phrase "conscious uncoupling," either.