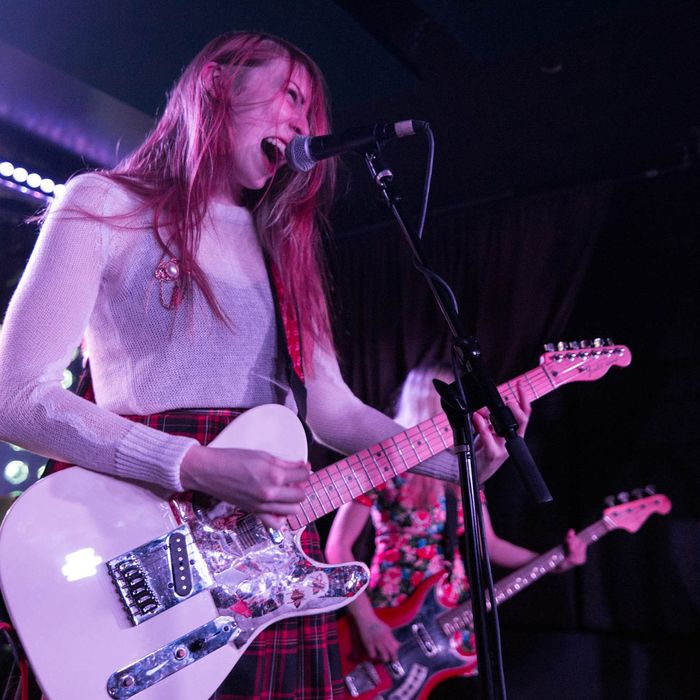 As far as passings of torches go, the Vivian Girls show in Brooklyn Sunday night made for a pretty tidy one. It was the second of two sold-out farewell shows for the divisive and pioneering all-female indie rock group. Opening for the band (after one patently endearing false start) was Potty Mouth, another D.I.Y. outfit whose — yes, all-female — members listened to Vivian Girls before they began making music, all of three years ago.
Bassist Ally Einbinder, 25, guitarist Phoebe Harris, 24, and drummer Victoria Mandanas, 24, met at Smith College and picked up lead singer Abby Weems, 20, from the local punk scene in Northampton, Massachusetts. Because they are young, women's college alumnae who dress vaguely '90s, the band's quick rise was plagued with comparisons to riot grrrl, prompting the band to adopt the slogan "gender does not equal genre."
The release of Potty Mouth's first full-length album in September, Hell Bent (Old Flame), brought more gender-neutral coverage; Pitchfork called it "a self-assured debut of principled pop-punk that leaves room for growth." Six months later, Potty Mouth already sounds better live — like they are still improving at a noticeable rate — playing amid pink and purple balloons at Baby's All Right.
"When we played there on New Year's Eve they had this drink special that comes in a whole coconut," Einbinder told the Cut before the show. "Our lead singer, Abby, is deathly allergic to coconuts and they were literally everywhere. So we gotta add that to our rider." They have until May to sort it out, when the Rookie-endorsed group will head out on a 35-show U.S. tour.
You're heading out on your first national tour. What else will change from previous ones?
Abby: It'll be our first tour without Phoebe.
Phoebe: I'm trying to pursue illustration more seriously. It's what I went to school for — it's something I've been trying to do while I'm in the band, but I've never been able to do it to the extent that I want to. I'm going to leave the band after South by Southwest and our friend Ali Donohue, from Fleabite, will join as lead guitarist.
You'll be a two-Ally band.
Ally: We'll need to find some way to distinguish us. I'm okay with being called Sport.
Abby: I'm not okay calling you that. Can I call you Shrimp?
Ally: And Abby's pretty similar, too. Victoria will have to change her name to Addy.
That probably wouldn't help with the girl-group framing that plagued your early days. With the release of Hell Bent, have you been able to shake those labels at all or are you settling into them?
Abby: It's gotten to the point where more people ask us about our opinion of being related to stuff like riot grrrl than automatically label us that.
Ally: It's out enough that we don't identify that people are more interested in hearing why we don't identify.
It always seems tricky for female artists to disavow gender-based categorization without dissing other women.
Ally: It's hard. There was this one time we did an entire phone interview with Bikini Kill's Tobi Vail and we didn't even know we were being interviewed by Tobi Vail. We said what we usually say about riot grrrl and after the interview was done, I think we saw a tweet from her being like, Thanks for the interview! Victoria and I looked at each other and were like, Holy shit.
Phoebe: Usually when I talk about it I mention that I grew up on music like that. I very much appreciate riot grrrl music. I was influenced to play music because of it, but I don't think we make music that sounds like it.
Ally: I heard someone say, I really hope Potty Mouth doesn't just get lumped up in with Vivian Girls and Dum Dum Girls — implying that we're better than that. That's a pretty sexist thing to say, and reductive. I like Vivian Girls a lot! This is something that I learned in Sociology 101: Even though gender is a social construction and it's not "real," the institutional, structural barriers are as real as they are arbitrarily constructed. So it's definitely a bind.
When you formed Potty Mouth, not all of you knew how to play your instruments, which I like because inexperience seems like a gendered barrier to entry. Women, more than men, won't create things without getting all the right credentials and degrees first. Why do you think it wasn't an issue for you guys?
Abby: It had a lot to do with the fact that we had no expectations. We did it for fun and it just snowballed. Because it started in such an easygoing environment, it didn't matter that Phoebe and I didn't even know how to play guitar.
Phoebe: I personally wouldn't have started playing music with men. I had just bought a guitar. I was like, Okay, I want this to be an environment where I can mess around and no one will make me feel bad or like I'm holding them back. That was three years ago. Now it's a lot different, but starting out, I wouldn't have had the idea to be like, I'm going to put myself out there with this group of men that is likely way more experienced than I am. I just would not have been comfortable.
Ally: I played in a couple bands before this one — my first one was with two other men — and I just never felt as comfortable in that one as I did in Potty Mouth. I recently read this very corporate study about how women won't apply for jobs —
Abby: Wait, did you listen to this on NPR?
Ally: No. I came across it in my job. Women tend not to apply for a job unless they have 100 percent of the listed qualifications, whereas men will apply if they have at least half. I think sometimes women have capacities they're not even aware of. Naming and recognizing those capacities is the most difficult hurdle.
Did learning how to play your instruments together influence the way you write music?
Phoebe: Yeah. We're just doing it the only way we know how.
Ally: We're not afraid to look dumb in front of each other. Recently, we were like, Let's try to experiment with more pedals. But we didn't know the name of the little cable that connects the pedals. I asked Phoebe and she was like, They're called patch cables, I had to look it up before I went to the music store.
Phoebe: I sat outside the music store with my phone, like, let me just Google this. I didn't want to have to go in and talk to a guy and be like, Umm, what's this thing!? I was like, Show me where your patch cables are.