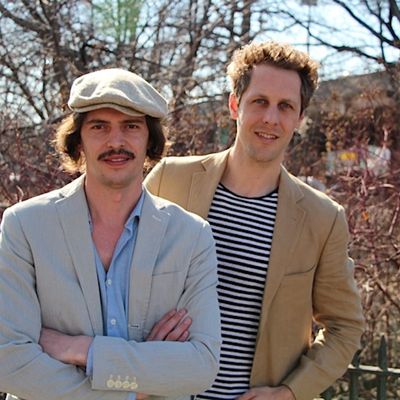 Photo: FalconNebula/OkCupid
One night last winter, over too many tallboys, two best friends got to lamenting the plight of single men in New York: dating was expensive, OkCupid photos were misleading, "flirt-texting" was a waste of time (and dick pics certainly hadn't worked out).
Kevin DeBacker, who is gay, and Eric Brown, who is straight, were both thirtysomething actors in Williamsburg. They were both single and a little codependent. They shared apartments, clothes and MetroCards. In the end, wasn't it better just hanging out with each other?
That's when Eric had an epiphany: "We should make a joint OkCupid profile."
Kevin loved it. They were besties who could meet other besties—specifically, gay men and their straight girl friends.
That night, he created the dual-username FalconNebula, and pitched their love rectangle to the internet: "We're looking to quad date. Yep. If you are a gay man and have a single bestie girlfriend, hit us up… Let's all four go out, drink cheap drinks, chat it up, and talk gurl talk. OR dawg talk."
They went to bed and nearly forgot about it. Then they checked their email the next day and dozens of responses had poured in. By week's end they had maxed out the site's 300-message limit.
Brilliant. I'm emailing all my gay friends.
One of the best things I've seen on the internet… I definitely want to hang out with you guys.
What are your workout and diet routines resulting in 0% body fat in those pictures? I'm desperate and need tips.
The response was baffling. Sure, there were a lot of foursome inquiries, plus they were young, attractive, and promised to respond as often as possible (even if just to offer a "hope all your subway transfers were smooth today!") But it was all a joke, right?
Not entirely. A year later, they have gone on some two-dozen quad dates, yielding at least one brief relationship for Eric and a couple of solo dates for Kevin. Girls liked the concept because "Any straight dude who is besties with a gay man tells me he's comfortable with his own sexuality," said Amanda Power, a hairstylist who quadded with Eric and Kevin last summer. And rather than reduce women to "fag hags," the quad-dating arrangement celebrated their kinships with gay men. The men, for their part, seemed taken with the notion of the "bromance," especially one that wasn't fraught with heterosexual anxiety.

I wondered to what Eric and Kevin attributed the appeal of their experiment. Did it redefine the rules of romance for the born-this-way generation? Or maybe it breathed fresh life into the labored landscape of online dating? Or was it a way to dodge the scariest part of any dating situation (online or otherwise): sitting across from someone you don't know and figuring out what to say. "OkCupid was starting to suck," Kevin wrote in an email. "This is safe, it feels different and folks tend to gravitate toward the new." And then: "Why don't you go out with us and find out?"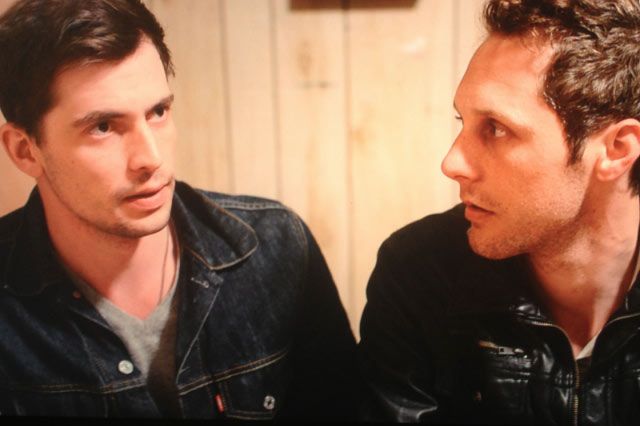 Done. Now, full disclosure, I knew Kevin and Eric before our meetup, and my intentions were more sociological than romantic. But I had definitely never gone on anything resembling a quad date, and neither had my gay friend Dominic Nurre, who I asked to be our fourth. ("I am totally down," he replied to my invitation. "I will seduce the straight one.")
We agreed to meet on a Tuesday at the Hell's Kitchen bar 123 Burger Shot Beer, which on that night offered a 100-ounce tube of beer with burgers and fries for the group price of $42.95. (Kevin and Eric go on a lot of these dates, they explained, so they like to keep things affordable.)
Kevin, blond and tall, got there first. He introduced himself to Dominic and claimed that people often don't know whether he or Eric is the gay one. Initially, the confusion seems plausible. They both favor ambiguous deep V-necks and Uniqlo denim. But after Eric arrived, 30 minutes later, the stereotypes began to manifest: Kevin's stubble was sculpted, Eric's whiskers advanced in every direction; Kevin folded his hands on the table like cat paws, Eric grabbed and tasted everything.  
Over a round of beers and waffle fries, it occurred to me that this wasn't really any different from a double date. Was it?
"Not really. But 'quad' sounds way more rugged," said Kevin.
"I actually prefer 'tandem dating,'" said Eric. "But the point is that on quad dates we all interact, like I'll often hang out with the guy and Kevin will talk to the girl."
Quadding was friendlier, group-oriented; "you don't necessarily have a set pairing," as Dominic put it. To take some of the pressure off, Kevin and Eric usually plan activities like Bingo, a drag show or roller-skating. For us they wanted to go for drinks at Flaming Saddles, a gay cowboy club where the bartenders line-dance on the bar.
It was actually the first time they've gone out in a while, they said. Instead, they've been focusing on a new joint project: "Besties," the web-series. They wrote a script fictionalizing their quad dates and enlisted cameos from a few well-known friends, including the singer Har Mar Superstar and fellow web-comedians Kelly Hudson, Emily Axford, Rob Michael Hugel and Shannon Coffey. Filmmaker and MTV producer Lauren Belfer directed the first four episodes, which debuted on YouTube in February.
"All these people kept sending us messages being like, 'you guys have to make this a show,'" Kevin said.
"The profile got so much response, we thought, 'maybe there's something to this,'" said Eric.
As the bartenders at Flaming Saddles finished electric sliding to "Tuff Enuff" by the Fabulous Thunderbirds, Eric turned the conversation to our tastes in film. I began to describe a documentary I'd just seen about Tonya Harding when Kevin interrupted—"I saw that too! She got really fat."
"Come on, Kevin, she's had like two kids," Eric said.
"Are you seriously defending Tonya Harding?"
He was: "I just think she lived a hard life. Nancy Kerrigan had everything handed to her."
And so the bickering proceeded for maybe another 10 minutes, by which time Dominic and I found ourselves exchanging eyebrow raises.
That's the trouble with dating besties—the inside jokes, the secret languages, the private irritations. It's hard to tell if they're performing for each other and just gauging your amusement. I later asked James Campbell, another of their former dates, about his experience. "All of their energy seemed focused on each other," he agreed.
Then there's the problem of sex, and how to have it when one pair is more interested than the other. One time they made out with their respective dates on the dance floor—and "once a guy grabbed my dick, which was nice," said Kevin—but, overall, it turns out that quadding isn't very conducive to getting laid. They check in to make sure things are going well for the other, and if one party isn't happy, they call it a night.
Given that Kevin and Eric's relationship with each other remains the dominant one in their lives it's probably unsurprising that none of their dates have led to serious relationships. Indeed, our evening ended on the L train, all laughing, but no one seduced. Dominic and I got off first to transfer while Kevin and Eric waved eagerly through the windows as they tunneled back to Williamsburg.