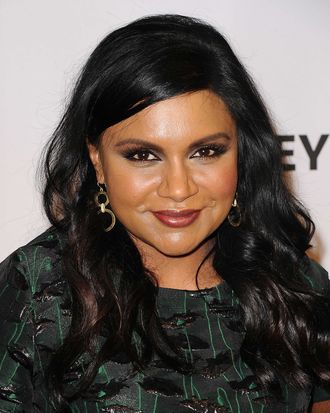 Photo: Jason LaVeris/FIlmMagic
In an interview for Vogue, Mindy Kaling talks about what she wants from her clothes, which also involves talking about confidence and body-con dresses and the entertainment industry's expectations of women's appearances. It's also a vaguely anti-fashion-establishment stance taken within the pages of Vogue. (This is a month of many new things for them.) Anyway, here's Kaling.
 I love when your clothes can help you project that you're witty — you know, when your outfit does some of the work for you. When I'm at my thinnest, I tend to wear things that don't show off my body. But when I'm bigger, I'll go body-con, which comes from a place of 'This is my perimeter, in case you were wondering if I was actually much bigger.' It's really temping to not take changes. But I don't want to be fearful. I don't want my tombstone to say, 'She hid her imperfections well on the red carpet.'
Witty Dresser, Body-Con When She Wanted To. A much better epitaph.