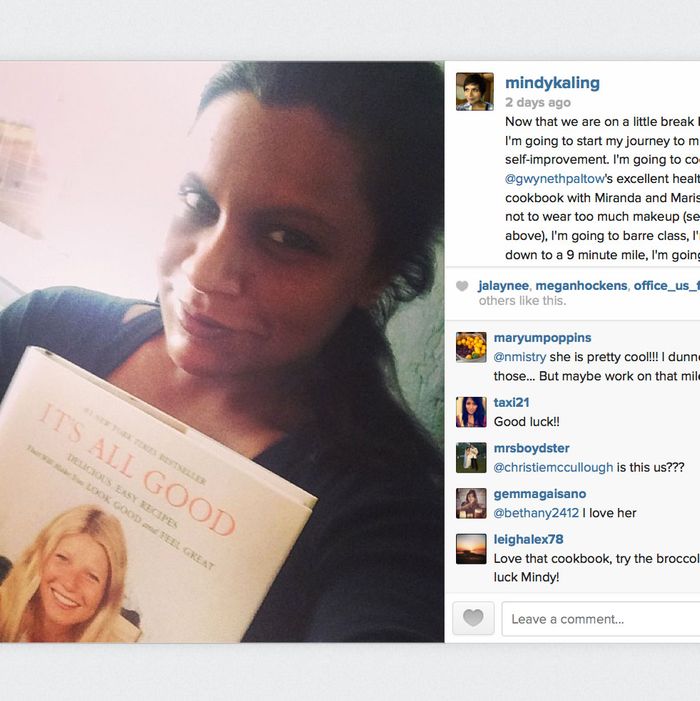 Photo: mindykaling/Instagram.com
It's New Goop Resolutions time of year and Mindy Kaling is ready to make her seasonal pledge. Photographed clutching Gwyneth Paltrow's blonde face — via Goop's cookbook It's All Good — Kaling aims high with her New Goop Goals:
Now that we are on a little break between seasons I'm going to start my journey to minor self-improvement. I'm going to cook every recipe in @gwynethpaltow's excellent healthy & yummy cookbook with Miranda and Marissa, I'm going to try not to wear too much makeup (see raccoon eyes above), I'm going to barre class, I'm going to get down to a 9 minute mile, I'm going to work on my book, I'm going to try to go hiking with BJ and Jeremy and try not to complain once, and I'm going to try to spend time with my dad. Also I'm going to watch 12 Years A Slave and not turn it off out of horror. Also I'm not going to buy any clothes.
There you have it: Conscious Uncoupling has not affected Gwyneth Paltrow's position as the Patron Saint of Self-Improvement and resolutions of the metabolic variety.