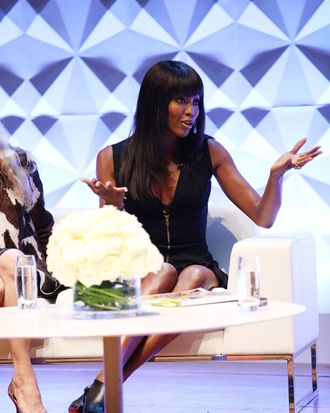 In the international family of Vogue magazines, Vogue Italia has often seemed like the politically incorrect uncle who makes a racist joke at your wedding reception. As recently as the March issue this year, the magazine featured a white model in blackface, posing alongside taxidermied safari animals. Then there was the infamous "Haute Mess" editorial of March 2012, which seemed, to many, to be poking fun at the culture of African American women — and the incident in 2011, when an online gallery of hoop jewelry was titled "Slave Earrings."
For all of these reasons, you may not associate editor-in-chief Franca Sozzani with the empowerment of Africa — but that is what she's been working toward since June 2012, when she became the global goodwill ambassador for Fashion 4 Development. The campaign is a United Nations initiative that aims to help build the fashion economy in the developing countries of Africa, and has matched up talented fashion workers with scholarships to develop their skills. At the Vogue Festival in London last week, Sozzani sat alongside Naomi Campbell and British Vogue editor Alexandra Shulman, and spoke about her experiences of the continent.
In slightly broken English, she explained why she'd created the May 2012 "Rebranding Africa" issue of L'Uomo Vogue. "For me, L'Uomo Vogue is not a fashion magazine — I mean, it is, of course, but it's more how to use fashion as a media to awareness for something else. So when we did [the] African issue, for example, I stayed two weeks in Africa, I interviewed the president of Nigeria, and we put, on the cover, Ban Ki-moon [secretary general of the United Nations]." The goal of the issue, she said, was to show some of the many positive things happening within the continent — because "if we go home and say Africa is poor, Africa is civil wars, Africa is AIDS, Africa is malaria — how can people go there?"
Her work for Fashion 4 Development seems to have had two main tactics: nurturing African talent and encouraging the development of a fashion economy; and drawing international attention to the best creative work. She spoke about the talented designers and beautiful fabrics she's seen in Nigeria and Ghana, but lamented that many fabrics sold as "African" are currently manufactured in Holland. More manufacturing needs to happen on African soil to build a sustainable industry, she suggested.
In the midst of this discussion, Naomi Campbell turned to the front row and directed a public request toward Jonathan Newhouse, chairman of Condé Nast International. "I'm hoping, Jonathan, that we can have African Vogue," she said, laughing in the deadly serious way that only she can. "I would be the editor," said Sozzani, and Campbell replied, "I'll be an assistant." (Now there's a reality show we'd like to see.)
But when pressed by Shulman, Sozzani said she thought the possibility of a Vogue Africa was still very far off. "We really have to work much more, and to have more people believe in [Africa]. There is not confidence in these countries [from the international fashion industry] because they've seen too many things, and of course in the newspapers they only put [negative] things. The good side is huge … So now, everybody's talking about Africa, and probably something will happen. I hope so."
Though some parts of the discussion seemed to sweep the continent of Africa into one homogenous whole, it left little doubt that Sozzani is enthusiastically engaged with African fashion and culture. It's just a shame that the biggest magazine she oversees, Vogue Italia, still has a long way to catch up.