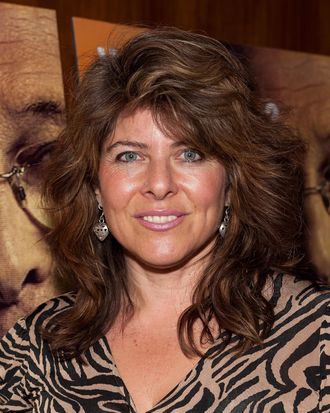 Photo: D Dipasupil/FilmMagic
Naomi Wolf has no problem with onscreen female nudity — at least when it's Lena Dunham's. In The Beauty Myth, Wolf argued that the conventional idea of beauty is a limiting social construct imposed on women; and, talking to the Cut at the Unknown Known premiere hosted by The Peggy Siegal Company on Tuesday night, she professed her admiration for Dunham's efforts to change the way female bodies are presented on TV.
Wolf explained that she hasn't gotten around to watching Girls quite yet,but she's "dying to go take a look."
"I think there's a lot to be said in favor of — she's the creator of the show, right? And she's the executive producer? So she's presumably in charge of how she's presenting herself. I think that's very important when you're evaluating. A naked woman's not just a naked woman: It's the power relations behind how she got to be there … I think it's different if she chooses to be naked in that context than if she is casting-couch naked, or anorexic naked, or you-don't-get-a-job-if-you're-not-naked naked."
After a year of ten-minute-lesbian-sex-scenes naked [Blue Is the Warmest Color] and "Blurred Lines" naked, we second the move in favor of empowered-woman naked.