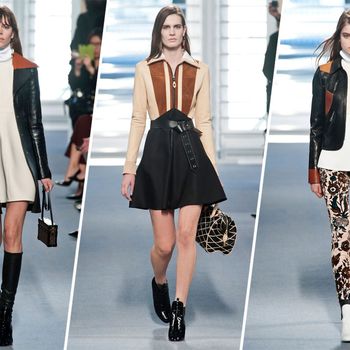 When it was over, the audience cheered. It was official: Designer Nicolas Ghesquière had a rousing debut at Louis Vuitton.
This new chapter in the story of the 160-year-old brand began on Wednesday morning in a transparent pavilion in a courtyard of the Palais du Louvre. In the minutes before the show, the audience arrived to find dozens of silver blinds dimming the space. The low-rise seating was spread throughout the room — a landscape of ivory-colored knolls and valleys. At show time, the blinds opened wide and sunlight poured in.
The first model marched down the runway wearing an ivory minidress with a white turtleneck peeking out from below. In addition, she wore a black leather jacket with a caramel-colored collar and a subtle patina of age.
As more models followed, it was clear that Ghesquière's aesthetic for the house is leaner, cleaner, and more pragmatic than that of his predecessor, Marc Jacobs, whose tenure lasted 16 years. Ghesquière focused on A-line skirts paired with trim knit pullovers and tidy V-neck vests, small-shouldered coats cut with precision, narrow trousers, and, most important, structured handbags.
Ghesquière's shapes were rather simple. The excitement was in his manipulation of fabrics, his ability to meld seemingly competing aesthetics into a cohesive whole, and his success in conjuring the complex history of Louis Vuitton into something new.
Louis Vuitton began as a luggage maker in a small Paris shop in 1854. For more than a century it thrived, thanks to its innovative, linen-wrapped, flat-sided, stackable trunks that were perfect for a world in which travel was increasingly by train, automobile, and then plane. As the brand grew into a behemoth of a company — the jet fuel of the LVMH Moët Hennessy empire — it has exploited the mythology of world travel, glamorous jet-setting, and innovation.
Jacobs arrived from New York in 1997 to produce the company's first formal ready-to-wear. He was just five years past his infamous grunge collection for Perry Ellis, and he brought eccentricity, popular culture, high art, and thrift-shop chic to Louis Vuitton. He invested it with lush, fanciful imagery. Jacobs's departure last year to focus on his signature brand was triumphant. He had established Louis Vuitton's modern fashion vocabulary.
As guests settled in for Ghesquière's debut, they found a note on their seats, typed on ivory LV stationery and tucked inside a sealed envelope. A charmingly personal gesture in a time of email and Twitter communication. In the letter, Ghesquière expressed his joy over being at Louis Vuitton and thanked everyone for coming. But he also added, "I salute the work of Marc Jacobs, whose legacy I wholeheartedly hope to honour."
The words were kind and respectful but also telling. Ghesquière recognized that the Louis Vuitton brand was not only what was established in that little Paris shop — what the company highlights when it talks up its vaunted DNA to customers — but also what Jacobs created. Louis Vuitton is both a French story and an American one. It is a two-person history.
Ghesquière managed to capture both strands without losing himself in the process.
His wool and leather fabrics, in shades of caramel, mocha, olive, sapphire, and ruby, called to mind the color of leather duffels and old-world tweed valises. But Ghesquière applies those materials to a ready-to-wear line that does not feel heavy or stiff.
There's a dynamic sportswear feel to his shapes. Ghesquière, the Frenchman, takes up American ease and forthrightness, while Jacobs paid tribute to French lavishness. The technical wizardry speaks of Ghesquière's personal passions. He festooned skirts, for example, with what appear to be feathers. But then, leaning in, one realizes they're faux feathers with squared-off edges that look as though they might have come from a metallic android bird.
Ghesquière, from his days at Balenciaga, has long been enamored with futurism and technology. (Alexander Wang carries on his legacy there.) And one wondered if that fascination would not only follow him to Louis Vuitton but also dominate the aesthetic. It does not. Like the best luggage, the clothes take advantage of technology without sacrificing the warmth of history.
This first collection was filled with intriguing ideas, from the gilded paint strokes on a bodice to a dress that mixed crocodile scales with the nubby texture of Berber carpeting. His handbags were sturdy and modest in size — although almost certainly not in price. And one petite shoulder bag appeared to be constructed of metal but with a leather skin that could be peeled away.
Ghesquière's debut was focused and playful; artful but real. With a bit of old-fashioned graciousness tucked on the side.
*This article appeared in the March 10, 2014 issue of New York Magazine.