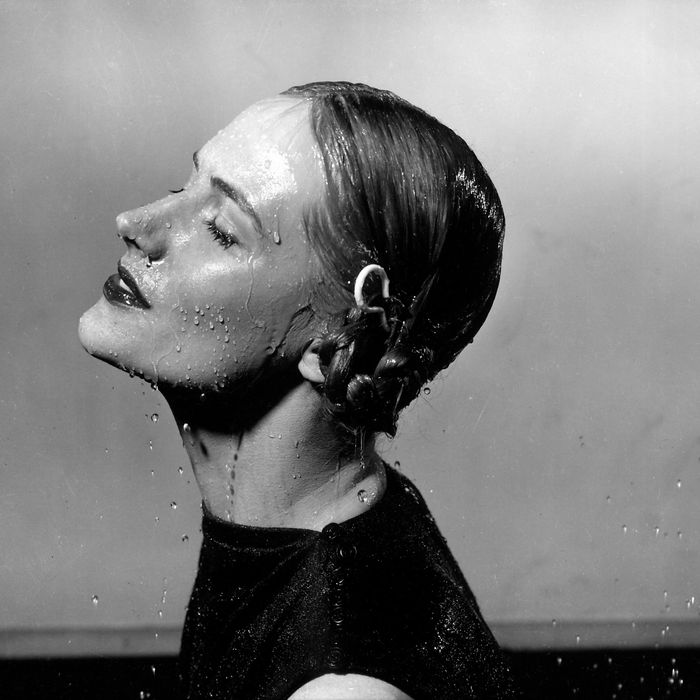 Photo: Gjon Mili/Time Life Pictures/Getty Images
If "lather, rinse, repeat" are already too many steps for you, this new development in hair care might pose a problem: A slew of new products have been popping up in the "pre-wash treatment" category. Hair brands have been following in the steps of skin care for a while now, adding more specialized products (like hair BB creams) and multi-step systems to address individual needs. The pre-wash treatment seems to be a continuation of that trend. 
As the name suggests, you're supposed to use these products before you wash your hair, but you can't lump them all into one category. Some are anti-aging, some are moisturizing, and one is a primer. The Cut tried five of them. Click through the slideshow below for our thoughts.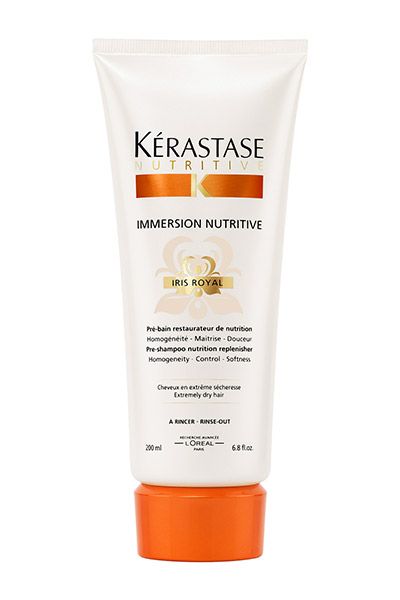 Kérastase Immersion Nutritive, $42
Purpose: To nourish dry hair. It contains iris extracts and royal jelly (a secretion from honey bees).  Attributes: It has a thick, creamy consistency, falling somewhere between a regular conditioner and a standard thick hair mask. It has a strong floral scent (presumably from the "heady iris butter" inside) tempered by powdery undertones.  The experience: You need to plan ten minutes in advance of your shower for this one, as per the instructions. It was easy to run through my dry hair, and one large palmful covered all of my earlobe-length, color-treated hair. The bottle directs you to shampoo twice, but I only needed to shampoo once (possibly because my hair is short) and I skipped conditioner because my hair felt great without it. Because you use it on dry hair, it felt like it penetrated better than more classic hair masks that you put on wet hair. I have no idea if that's true, but my hair was really soft after using it.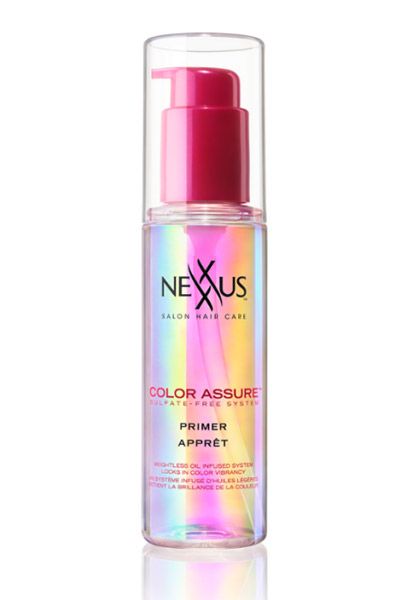 Nexxus Color Assure Pre-wash Primer, $17.99
Purpose: To repel water — one of the biggest culprits in color-fading — while you're showering. It contains white orchid extract, coconut oil, and silicone.  Attributes: This clear, slippery product feels like a hair oil or serum, and has a slightly sweet floral scent.  The experience: You are supposed to pump five to seven times and spread it through your hair from the tips to the scalp; your hair should feel "soft but not saturated." I used way too much the first time, and it took two shampoos to get it all out. But the next time I used just four pumps and that was the magic number. After I put it on, I got in the shower and did all my usual shower activities, saving the shampooing for last. The water didn't exactly bead off, but even after six or seven minutes, I could still feel the product on my hair. I've been using it for about a week now, and have started to get nervous if I forget to put it on (which I did once). My two-week-old color still looks bright, although — full disclosure — I'm also using a home gloss.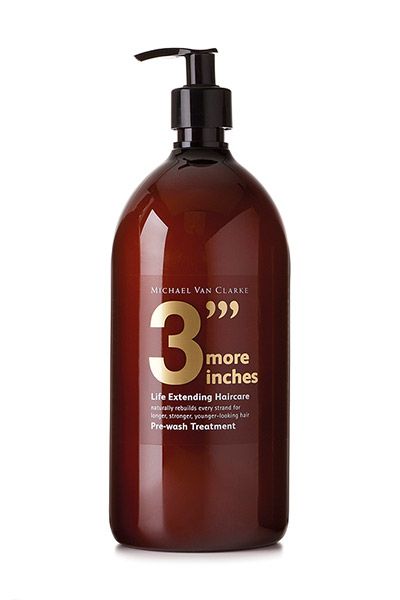 Michael Van Clarke 3 More Inches Pre-Wash Treatment, $38
Purpose: Claims to be anti-aging and to help hair grow longer, faster. It contains proteins derived from cashmere and amino acids, which supposedly repair damaged hair and prevent further damage. Attributes: It has the consistency of a regular conditioner, and has very little scent.  The experience: You really need to commit to this product. The directions say to use it every second wash, and to leave it on for at least an hour before shampooing. Van Clarke, a hair stylist in the U.K. who once apprenticed with John Frieda, told me that he has some clients who will sleep with this mask on. I've been using it about once a week for the past several months whenever I have time (and remember to do it), and it always makes my hair really soft and manageable afterward. I have no way of knowing whether it's helping me grow out my pixie cut (although, my ends are pretty healthy). This product would probably be best for someone with really long hair who also color treats and heat styles, which is the triumvirate for having unhealthy-looking hair.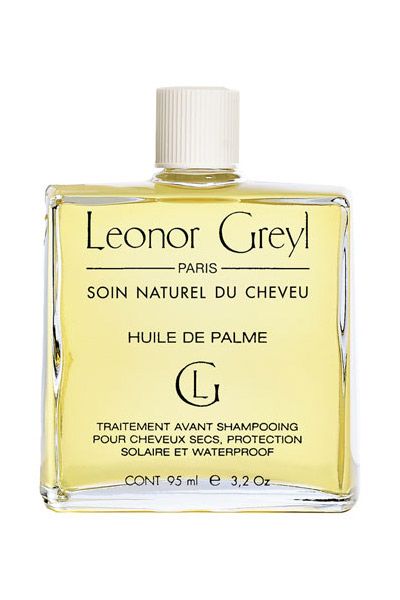 Leonor Greyl Huile de Palme Pre-Shampoo Treatment, $52:
Purpose: To restore and moisturize damaged hair, and to protect from water and UV rays. It contains a mix of oils, including coconut oil.  Attributes: If you happen to open this bottle somewhere where the temperature is below 77 degrees Fahrenheit, the product will be solid. I stared at it for a good fuve minutes before I figured out that I should run the bottle under hot water. The oil mixture liquified quickly and smells heavenly, like essential oils. (Many of the oils are either "natural" or "organic," according to the package.) The experience: I've used this many times as a pre-wash mask. I usually leave it in for 15 minutes, shower, and then shampoo it out at the end of the shower. It washes out fairly easily in the shower with shampoo, and leaves my hair silklike. I used this product a lot when I bleached my hair a few months ago, and I've also used it as a mask to protect my hair at the beach from water and sun damage. It comes in a heavy glass bottle that isn't really that conducive to travel, but it's so chic that it will make the Jersey Shore seem like St. Tropez.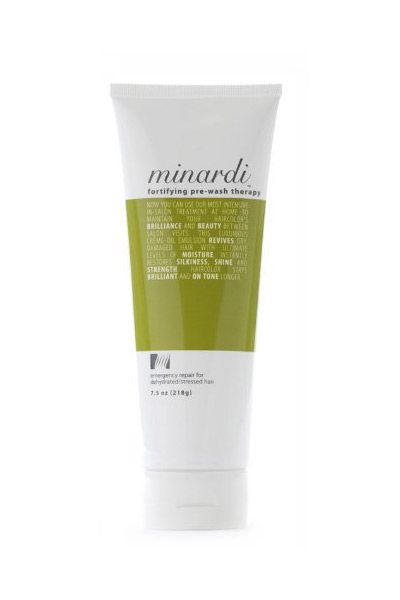 Minardi Fortifying Pre-Wash Therapy, $32:
Purpose: Developed by colorist Beth Minardi, this treatment is meant for very dry, over-processed, and color-treated hair.  Attributes: It has the consistency of a thick conditioner, with a slightly mousse-y (the dessert, not the product) fluffiness. It smells like flowery coconut, but not in a fake way. The experience: You need to commit some time to this product. The tube recommends leaving it on dry hair for 15 to 60 minutes. I split the difference and left it on for 30 minutes. It rinsed out easily, and again, after shampooing, I didn't need conditioner. My hair was really soft afterward, but I'd rather use a more intensive three- to five-minute hair mask in the shower — which pretty much gives you the same results — rather than committing the time. But I could see using it once or twice a month for an extra hit of moisture.