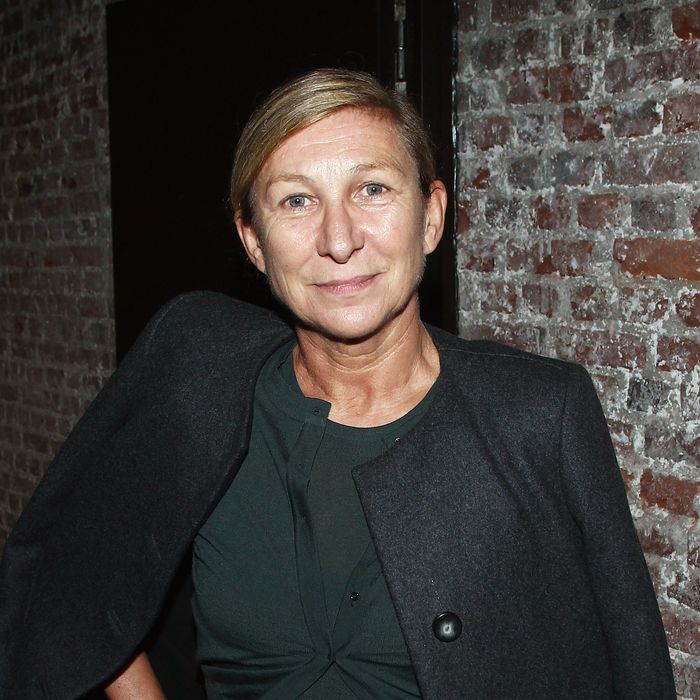 Photo: Julien M. Hekimian/Getty Images
Backstage at fashion shows, French hairstylist Odile Gilbert is practically ubiquitous: This season she was the mastermind behind the hair at Jason Wu, Altuzarra, and Rodarte, to name a few. Since the early 1980s, Gilbert has been one of the most influential hairstylists in the business, and one of the most in demand on editorial shoots, ad shoots, and at shows. For the latest edition of "Stylist Stories," Gilbert talked to Hair Days about how the industry has changed since she started, whether anything is "impossible" when it  comes to hair, and the most challenging style she's ever executed.
How did you become a hair stylist?
I did school for three years starting when I was 18, because in Europe it used to be three years to train. From there I worked with a famous hair stylist [Bruno Pittini] in Paris who had a hair salon, then he worked in the theater, in movies, and in fashion. And through him, little by little I started working in fashion. I worked for four or five years in the salon, and then I moved to New York. 
What do you consider your biggest break?
Working with Peter Lindbergh! I did a few shoots with him and then he asked me if I wanted to work with him all the time. So I said yes.
How has the backstage experience changed since you started?
The timing is different. We used to have a bit more time backstage, now it's maximum three or four hours. Before, we used to have six hours. That two hours is a lot!
How do you plan for runway season and when do you start practicing ideas?
Especially in New York, it is quite organized. They're very organized in advance and usually I speak to the designers at the fittings. Some send me their inspiration early. For haute couture we have a bit more time because it's usually a more sophisticated look. 
What's the hardest or most complicated hairstyle you ever had to do?
Jean Paul Gaultier, the Chinese-themed haute couture show in  2001. We had to create pieces of hair that didn't exist, basically. They looked like butterflies and other things. We worked for two weeks on it.
Have you ever had someone ask you for a hairstyle that was impossible, that you couldn't do? 
No, because I always say yes. [Laughs.] Once I say yes I cannot say no after. I'm actually preparing for Jean Paul Gaultier's exhibit in London and it [features] impossible things, but after two or three months we finally managed to do it.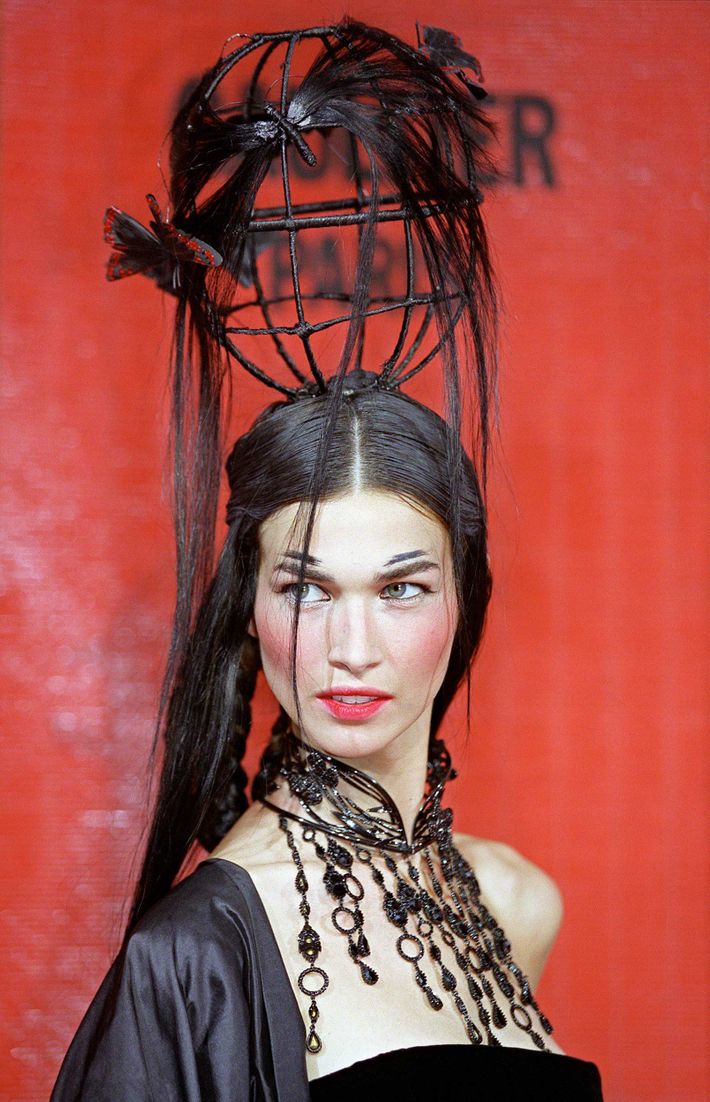 At a runway show have you ever had a disaster —  like a hairpiece falling off?
No, no, no, no, impossible. We have to be so prepared for shows. We have to be able to achieve a look. It's why we travel with lots of bags … just in case. We always have to be ready. 
What do you always carry?
Hair dryer, irons, products, and extensions. You definitely need extensions. You need shampoo and conditioner always, too, because sometimes you have to wash the models' hair at a show when they come from another show. We often end up in the bathroom washing hair.
Any products or procedures that have made your job easier or changed things for the better?
The products are much better today than they used to be. You have so many more specific products. The quality is much better. It's very important because for models they need to take care of their hair. They're doing five or six shows per day, and today you have a lot of girls who have almost-white hair, so you have to be careful that the hair doesn't break.
How have the models changed over the years? 
For a while all the models were quite scared of doing anything to their hair. And I kept saying to them that people like Linda, Christy, Kate Moss, they went short, long, different colors — they were not afraid to renew their own image. Now they're better, like if somebody says, "We'll dye your hair red or white," which happened to a lot of girls in advertisements this season. They're starting to take risks again, which is great. Chloe [Nørgaard], for Rodarte, she has a lot of color that she does herself. This season she was purple and pink and blue. It's incredible that she does it herself. 
Do you think runway hair is getting more complicated or less so?
In general, one season it will be hair down with a middle or side part. When it goes from one season where it's quite relaxed, the shows the season after may be a bit more eccentric. [The fall show this past month] were more relaxed, because you have more coats and turtlenecks and hats, so the hair is more natural. When you get to spring-summer, it's little dresses and you have more space to create hair. 
Backstage beauty editors are always asking, "How can we do this look at home?" Do you think runway styles can or should translate to real life? 
Young girls are always very fascinated by actresses and models. They're young and beautiful girls, so it's always an inspiration. At the moment you do something special to a model, a young woman will want to try it, especially in America. They love it; they're obsessed with how to get the look. I think it's great. It's definitely more popular in the U.S.
This interview was edited and condensed.