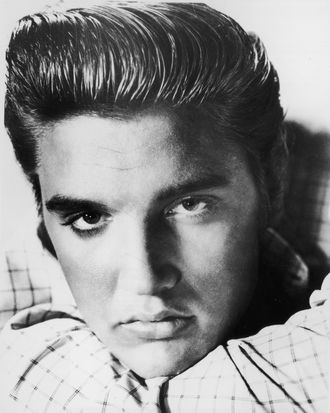 Photo: Hulton Archive/Getty Images
A single strand of Elvis Presley's hair will go up for auction tomorrow in Northumberland, England. The keratin wisp, which is set in the middle of a gold record and mounted with a framed photo of the singer, comes from the collection of a late Elvis fan from Newcastle, and, before that, apparently belonged to a friend of both Elvis and his hairstylist, Homer Gilleland. A signed and witnessed note on the back of the frame testifies to its authenticity, noting that Gilleland considered a bag of Presely's hair clippings one of his most prized possessions.
A local auctioneer, Jim Railton, told the Belfast Telegraph that he is "quite confident [the hair] is what it says it is," speculating that the strand could sell for anywhere from £50 to £5,000.