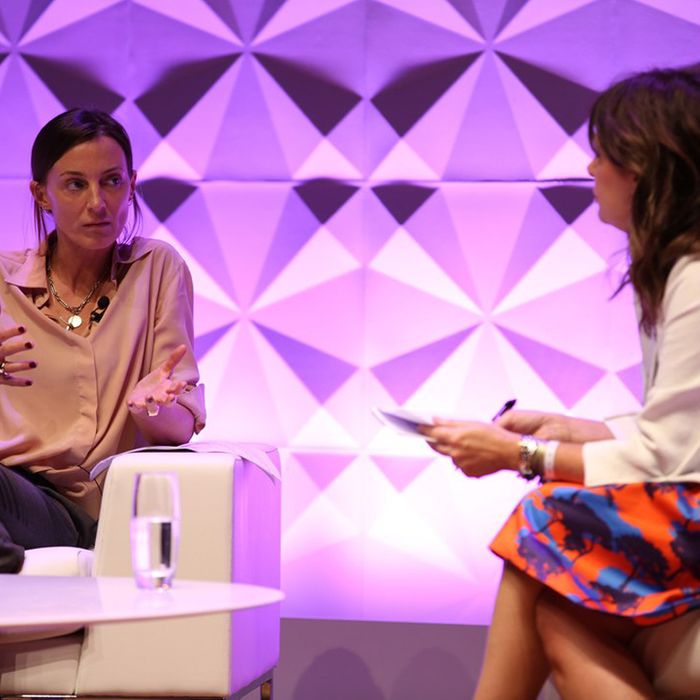 LONDON — Céline's Phoebe Philo made a rare public appearance yesterday at the British Vogue Festival here, sitting down for an onstage interview with editor Alexandra Shulman. The famously uncompromising designer didn't make life easy for Shulman – there were very few smiles and one or two awkward moments – but then again, as Philo made clear, she isn't comfortable with publicity. Below, the highlights of the hourlong interview, from Philo's childhood love of "trashy" clothes to her "innate fear of fame," and her admiration for Rick Owens's step-team show.
On working at Chloé vs. working at Céline: "The relationships I've had with the two main jobs I've had were very different. At Chloé, it was very clear from the beginning that there was a Chloé aesthetic, and my job was to continue doing that. I took that opportunity — and it was a great opportunity — but that's what I did. And it's one of the reasons why I left Chloé, because it was no longer what I wanted to spend my time doing. So it was absolutely clear that when I was going to go back and do something, then it was going to be absolutely what I believed in. I couldn't work in a way where I was doing it to a brief, to somebody else's brief."
On compromise: "I find mediocrity hard. I find that whole area difficult. I'm a very passionate person, I care very much about what I do. I believe I give it a lot, so it's gotta be good, otherwise what's the point?"
On recruiting staff: "I normally know quite quickly if someone's going to be right. The thing that's challenging is that we're a sizable company, and we're growing, and we need people – and sometimes there's not enough good people coming up. It's difficult to find the talent."
On her career in fashion: "I think it has been a bit of a calling. I do feel somehow that it was always in me. I really think it comes up and out of me, an idea of wanting to use clothes to say something. I remember being very, very little and being very clear about what I wanted to wear. My mother used to dress me in quite good-taste clothes, and I really wanted things that were sparkly and spangly and trashy and nasty. I don't know if I ever chose fashion, it was just there in me."
On her control over press appearances: Phoebe Philo: I've just done what I was comfortable doing. I have an innate fear of fame. I've never thought being famous looked like such a good place to be. I love being incognito. I love walking around London and nobody knows who I am. I very much value my freedom. I do what is necessary for me to do, in terms of press.
Alexandra Shulman: But if you are portrayed somewhere – and listen, this isn't unusual – you want it to be the way you want it to be, right?
PP: I mean, of course. Yes, I have a strong opinion about that. I mean, I am a person, I have feelings, I have values and if they're not respected – guess what? I don't like it.
In reply to the question "What do you think is the role of print magazines today?": "I'm not going to tell you how to do your job. I'm not going to answer that. I don't buy magazines."
On the skinny body shapes shown in fashion: "I think it's really complex. It's really good we're talking about it. I think it would be unrealistic to think that human beings are not going have some kind of worshipping for beautiful people, because they always have. It's unrealistic to think that the fashion industry, the film industry, the sex industry are not going to have extreme ideas of beauty, as a way of selling themselves. I don't really like it sometimes. I thought Rick Owens's show a couple of seasons ago was just fantastic, and one of the most exciting, energizing things I'd seen for a long time. He used large ladies – strong, athletic, dancing … When I see somebody do something very interesting, like Rick proposing that as an idea of showing clothes, what's great about it is that it's got me thinking. I've never done anything like that before, but maybe I will. Maybe that would be an interesting thing to one day try and do.
"What I do believe is that anybody, and it really doesn't matter what shape your body is – anybody can be seductive and sexy and gorgeous and beautiful. I use an extreme idea of beauty as a way of showing Céline, but I don't believe it has to be like that outside of a fashion show."