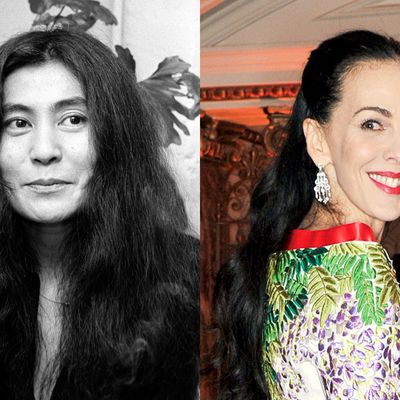 Photo: Ron Galella/WireImage; Nick Harvey/WireImage
Compassion is not a tabloid strong suit: "Stones members felt L'Wren was their 'Yoko,'" screams a headline from yesterday's "Page Six." The item below cites a source who says of the band, "When they saw her, they said 'Here comes Yoko.'"
It's an unseemly report, not least because it vilifies the designer and longtime partner of Mick Jagger as "controlling" just two days after her suicide — and implies that the friction caused by offenses like offering to create the Stones' performance outfits led to her untimely end. It also suggests that the world's longest-running rock band, currently touring in their 52nd year as a group (!), could be undone by one woman who, by most other reports, loved and respected Jagger's autonomy enough that she refused to ask him for money, even when her business was millions of dollars in debt. Who could split the band that refuses to die? If the Rolling Stones' relationship is so fragile after 48-odd albums, they'd seem to have much deeper problems than their singer's partner.
But in rock music, the blame for such things almost always defaults to a woman — the practically biblical archetype of the evil woman, who would dare change or brainwash one man enough that he would violate the bro code and break up the band. The silly, misogynist (and racist) trope that "Yoko ruined the Beatles" endures decades on, even after Paul McCartney stated on record that Ono never did such a thing, and claimed that she, in fact, enhanced John Lennon's art by exposing him to "another way to be." Imagine! Since 1969, the notion of "Yoko"-dom has taken on a life of its own. Call it zombie misogyny.
Do a quick flip through some of the examples, though, and you might be tempted to eat your own brain, just to avoid the stupidity. In 2011, one reviewer of a Death Cab for Cutie album wondered if bandleader Ben Gibbard had been "Yoko'ed" by then-wife Zooey Deschanel — not because the band was breaking up, but because he thought Gibbard sounded too happy. During Taylor Swift's brief 2012 dalliance with Harry Styles, she was reported to have been Yoko-ing One Direction. The reason? He spent some time with her alone on a private jet, away from the rest of the band. You know, like, a thing that … people who are dating do. That same year, comedian Rob Delaney tweeted, presumably in jest, "Avril Lavigne, if you Yoko Ono Nickelback I will be so mad at you!!!" More recently, wily-looking ABC sitcom The Middle, which I have never seen and, now, never intend to, used "You are Yoko-ing the band!" as a stale punchline. And, in the most absurd accusation of Yoko-ing that has ever been, a 2012 blog bit, about the band consisting of Sonic Youth's Kim Gordon and Thurston Moore as well as Yoko Ono herself, led with the headline, "The Yoko Ono-ing of Sonic Youth begins." Yeah, not to fact-check from the future, but pretty sure Sonic Youth broke up for entirely other reasons, guy. Meanwhile, Hayden Christensen may be the only man in history to be accused of Yoko-ing (but you know how Star Wars fans are).
Beyond misogyny, the notion of Yoko-ing persists out of laziness, lack of creativity, and, most of all, ignorance about the history of rock music. Though Yoko-ing is meant as a dis, in another context any woman would be proud to be compared to the fiercely imaginative Ono, an avant-garde artist, feminist activist, fashion designer, and musician who dropped her 15th album last year at the tender age of 80. In December, she told Interview, "I was accused of something that I didn't do, which was breaking up the Beatles. That was like being somebody who is in prison without having done anything wrong … That's why I finally came to the conclusion to use that big energy of hatred that was coming to me and turn it around into love … I wasn't valued by people, or if they did value me, it was in a particular way. So I started to feel that if no one else loved me, then I had to love myself." That graceful response to over 40 years of vilification could teach her detractors something about Yoko-ing.