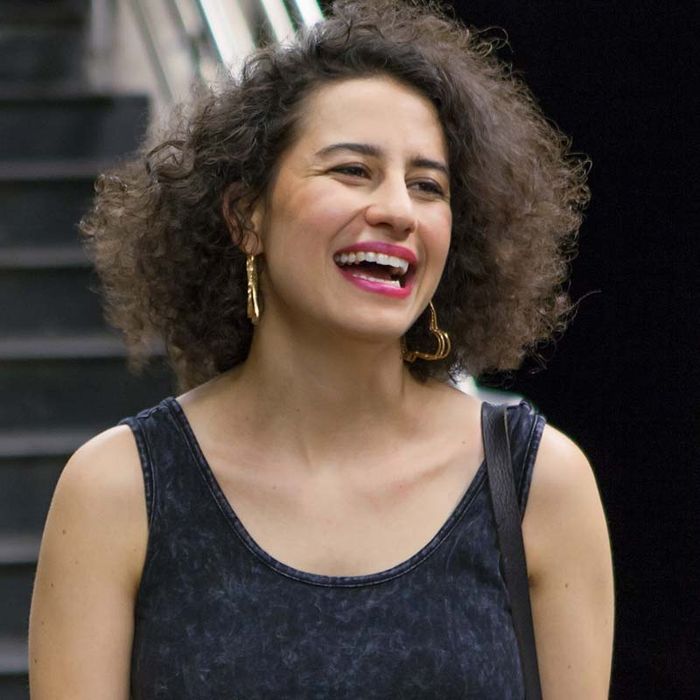 Ilana Glazer's character on Broad City — also named Ilana — is filter-less but guileless, self-interested but generous, and affectionate to a degree that borders on horny. Glazer and her co-creator and co-star, Abbi Jacobson, have invented in Ilana a character who embodies a new and long overdue DGAF female archetype (as Slate's Willa Paskin put it). She's the kind of friend who doesn't make your life any easier but definitely makes it more interesting: "Likeable" doesn't even come into it. 
And Ilana's wardrobe on the show is fittingly bold — a genre-defying unicorn all its own. The outfits vary wildly, half clothes and half costumes (a triple-floral-print ensemble worn to the park, a boy's tuxedo worn to a wedding), so it's hard to describe a signature look. The only unifying factor is that they are all completely inappropriate for the situation at hand. I got so accustomed to seeing Ilana in short-shorts and midriff-baring tops that I laughed out loud when her co-worker observes (in a voice memo recorded for some future lawsuit) that she is "wearing a napkin as a shirt."
What I love about Ilana's look is that — thanks to some boyish pieces and utilitarian footwear — her revealing clothing suggests neither high-fashion provocation nor pedestrian skankiness. "Ilana is subversive and misguided in a way that's appealing and lovable as opposed to hard-edged," the show's costume designer, Staci Greenbaum, told the Cut. "It's not overtly sexual, but when you're looking at her you're like, This girl is so confident and so unapologetic. It's apparent in her clothing without being a really deep neckline."
On Ilana, bare skin telegraphs comfort in her own skin, not an invitation to ogle it. "We noticed this early on," Greenbaum said. "Abbi and Ilana are often dressing for two completely different seasons." Going bare lets Ilana look more like herself and less like anyone else; Abbi, meanwhile, piles on layers (T-shirt, hoodie, green utility jacket) in a way that makes her seem both familiar and self-conscious. "Abbi is a Madewell girl through and through," Greenbaum said. "Her killer boots were from Shopbop but she wears those every episode."
Greenbaum, who has worked on the latest Spiderman and MTV's forthcoming tech drama Eye Candy, develops a character's style by thinking about how they acquire clothes. For Ilana, that means a mix of flea market vintage, American Apparel, H&M, and truly random finds. "We are on a budget as they would be," Greenbaum said. Like the vest/T-shirt Ilana wears when she becomes her own accountant? "We had a garbage bag on our floor and we thought it was trash and then we realized it was full of free clothing," Greenbaum recalled. Repeating items is part of the show's philosophy, like the LF Stores lattice bra that is often visible above or below Ilana's crop tops. "We try to keep it real-real not TV-real, you know what I mean?"
Greenbaum walked the Cut through a few of Ilana's best outfits from season one, although she says the best is yet to come during a music-video sequence in tonight's episode.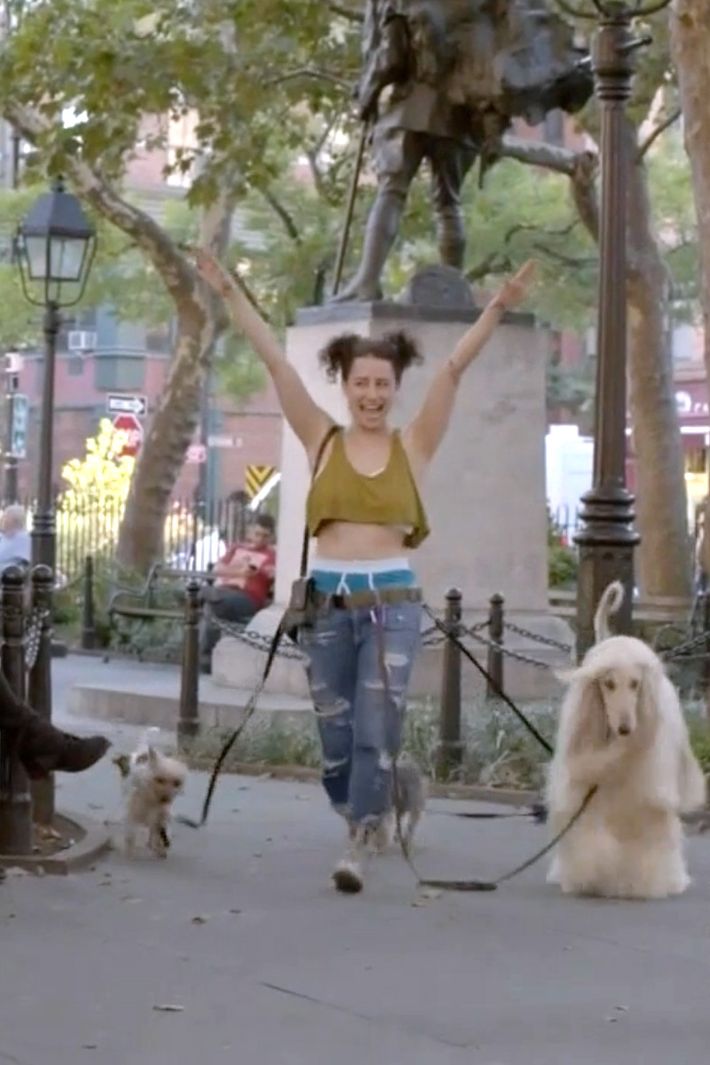 "This is Ilana's Riri Look. That avocado-green crop top, we cropped it even more to make it extremely inappropriate. We paired it with baggy jeans and boys underwear from American Apparel."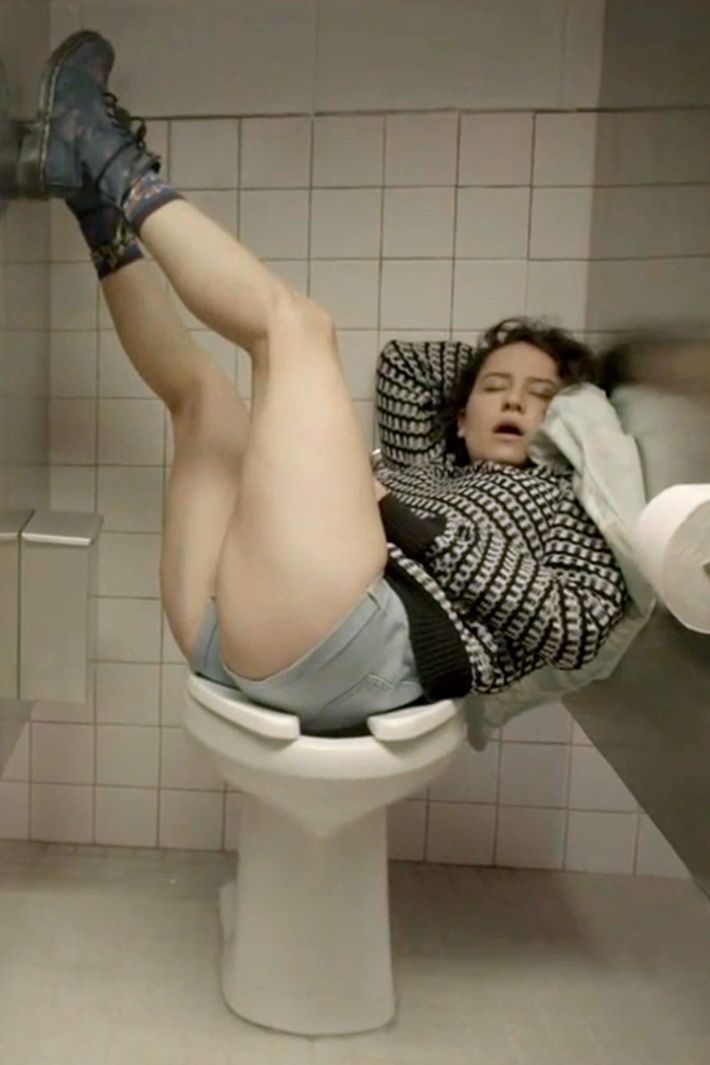 "She has more socks than any character I've ever worked with. At least three hangers full of different kinds of socks. I've never accessorized someone so much in that way."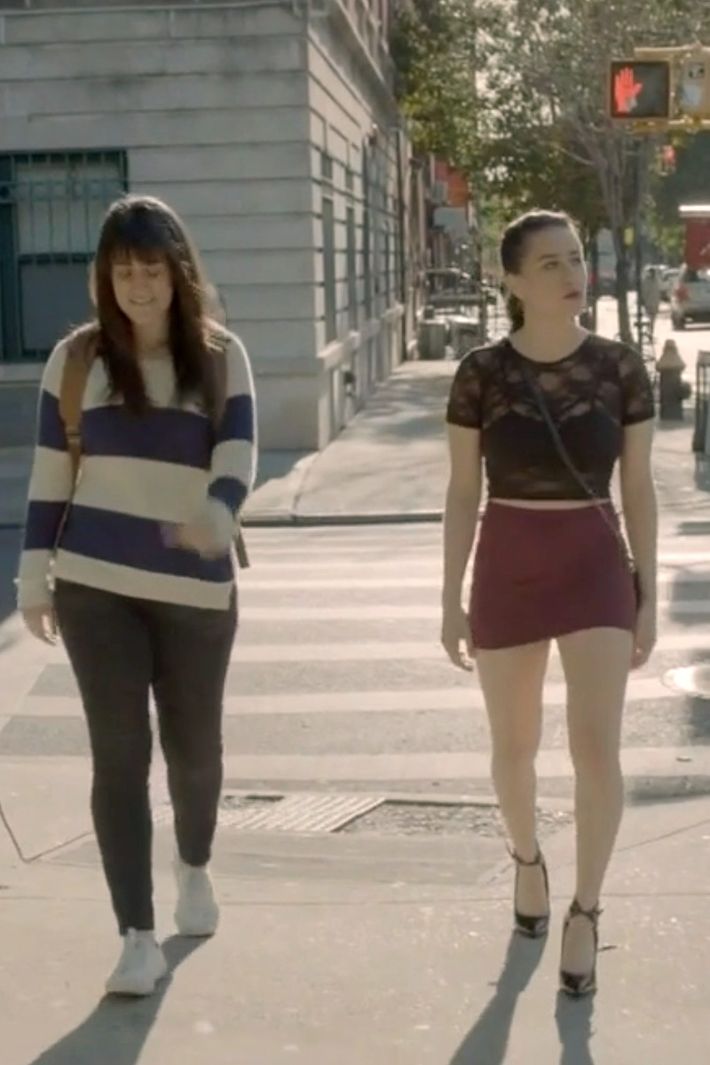 "That's her party look. It's an H&M skirt and a lace crop top from American Apparel. We put her in these heels that she specifically had wobbly ankles in. A lot of her outfits are joke-driven."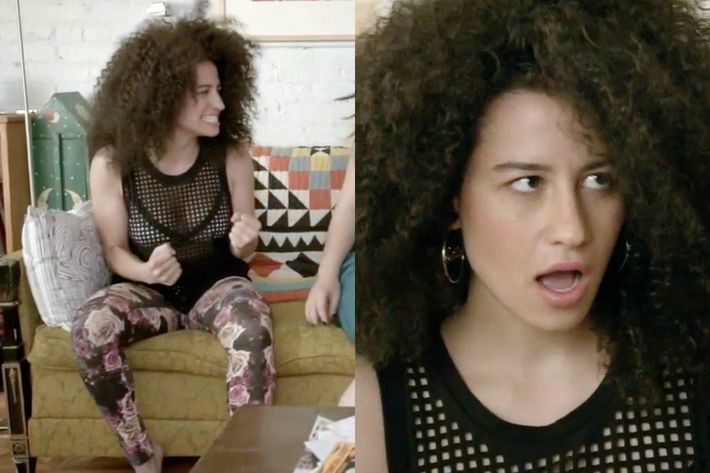 "In Ilana, there's an element of her fantasies. That's her idea of what is so hot. She very rarely accessorizes with jewelry. We keep that very minimal with her three earrings, all versions of gold hoops. One in the shape of a horse, designed by Pedro Brando, one is in the shape of a heart, and the other reads 'Latino' across it in cursive."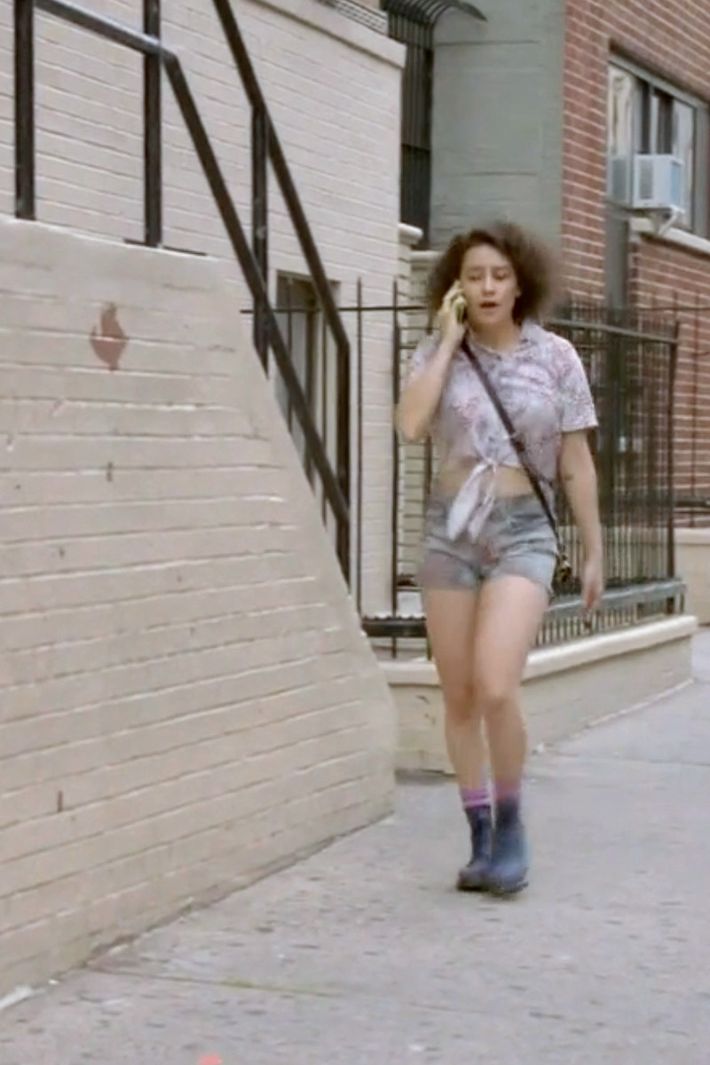 "If she's going to wear a print she's going to wear it head to toe: floral crop top, floral shorts, floral Doc Martens. She also thinks camel toe is the funniest thing on the planet."