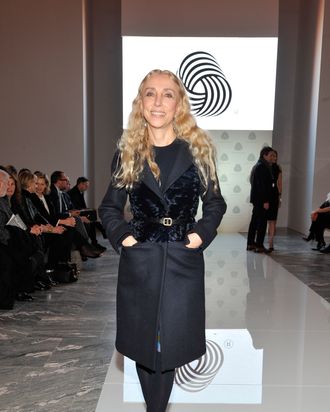 For the latest issue of L'Uomo Vogue, editor-in-chief Franca Sozzani turned to Australia, dedicating the entire issue to talent in fashion, film, and the arts Down Under. Baz Luhrmann and Cate Blanchett appear on the issue's two covers, and the likes of Iggy Azalea, Nicole Kidman, and Nick Cave are featured in the pages within.
To mark the occasion (the issue goes on sale this week) and to celebrate its long-standing partnership with the Italian fashion industry, the Woolmark Company — an Australian-based wool company historically known for supporting young designers (including Karl Lagerfeld and Yves Saint Laurent, way back when) with the International Woolmark Prize — invited Sozzani, who is also the editor of Vogue Italia, to Sydney.
This was Sozzani's first trip to Australia and, over the past week, she's been on a whirlwind tour around town, looking stylish in a fur despite the muggy weather. She found time to drop in on Baz Luhrmann during rehearsals for his new Strictly Ballroom Broadway show, visit star-struck fashion students, and even managed to take a day trip to one of the country's most prestigious sheep stations. Despite her chockers (that's Aussie for full), the Cut caught up with her to find out her thoughts on Oz, the publishing industry at large, and her tips for Australia's young designers.
This is your first trip to Australia. What are your thoughts so far?
The jet lag is quite heavy [but] so far we've done a tour of the city, the shopping district, the harbor. It seems like a city where you could have a very good way of life. Very far from everywhere and that could be good and bad. Good because you can live your own life, and there's that quality. For instance, I understand Cate Blanchett's choice to keep her children here because she's protected, in a way.
What have you been most inspired by here?
You know we say that fashion is the fastest industry in the world, and here people slow down. They are not in a rush; they don't have this kind of chaotic life like in New York or any other big cities. In Italy they've found Slow Food; maybe we need to find the slow way with fashion. But I think that we've gone a little too far to go back now.
You're meeting with many young designers (Dion Lee, Josh Goot) while you are here. What advice do you offer to young talent?
To be themselves. If you want to be a designer it means that you have a vision of a woman or a way to be that you have to improve on day by day. Don't be influenced by other success stories. What makes Prada a success might not work for you, so you have to find your own way. It takes time, which is why young people need to be supported.
Were Baz Luhrmann and Cate Blanchett always your first choices for the cover?
Yes, Baz is really such a visionary — such a talent. The Great Gatsby made everything else old because he has an approach and a vision that very few directors have. The last one was Fellini — he had such a vision. The way they see things in a different way. Cate is an incredible actor. As soon as I saw Blue Jasmine I thought we must do her, because she really represents Australia today. The shoot with Cate took place in L.A. the day after the Academy Awards, and she was very professional — because, you know, the day after many people tend to cancel.
You spent the day with Luhrmann yesterday at the rehearsals for Strictly Ballroom. How was that?
It was great! I love rehearsals. I went around with Catherine [Martin] to see the costumes — she is fantastic.
Did she ask you for any tips on the costumes? 
[Laughs.] She doesn't need that!
Each international edition of Vogue has its own clear identity. Vogue Italia is the most artistic, and often provocative, of them all. Is that cultural, or is it because of your direction?
Honestly, it's my direction, because when I arrived, Vogue Italia was a very successful magazine — or a very successful catalogue of fashion — and then it became a magazine. In the beginning people did not understand and so I wasn't successful for two years but, step by step, I convinced people. 

How do you approach your magazine, in your role as the editor-in-chief?
I'm not an organized person in my way of thinking; whatever happens, happens. I change my mind every two seconds. In the middle of doing something, I can change my mind completely because perhaps it doesn't work anymore. We work as a team and we are a very strong team. We argue — it's not like I am the boss and everybody has to shut up — everyone says what they think. But when we arrive at the end we are all together. Afterward, of course, I make the decision because somebody needs to take the responsibility.
What does the future look like for fashion publishing?
I have a lot of respect for magazines, but I think we have arrived at a certain flat moment where all the images look a little the same. It's all good, all approachable, but all the same. So how can magazines be different? Take risks, find a new way, look around to find the creativity … I get ideas from everywhere, even where I shouldn't. [Laughs.] When you take risks you become more confident.