On Tuesday, the new issue of Interview will hit newsstands, bearing on it a picture of Johnny Depp, looking suspiciously youthful and cradling a teddy bear.
It's the first time in 20 years that Depp has covered the magazine — and represents the first issue edited by Keith Pollock, Interview's new editor-in-chief. "He's a hard get in our circle, so we're proud of that," Pollock told the Cut on a recent afternoon in his sunlit, but sparsely decorated, office on Greene Street, a glass box adjacent to an open newsroom filled with young faces.
Though he's only five weeks into the job, Pollock is something of a veteran at Interview: from 2008 to 2010, he served as the executive director of Brant Publications digital — where he worked closely on Interview and other publications — and forged close ties with its top brass, creative director Karl Templer and editorial director Fabien Baron — part of the team who recently lured him back.
But in the meantime, he has served as the digital director of Elle.com, and as a founding co-editor of DuJour, the luxury print (and digital) property published by Jason Binn. Pollock is, in many ways, a start-up native who has suddenly found himself in a not-so-scrappy place.
He talked to the Cut about his plans for the magazine, being the "digital guy" in the print world — and buying old copies of Interview on eBay.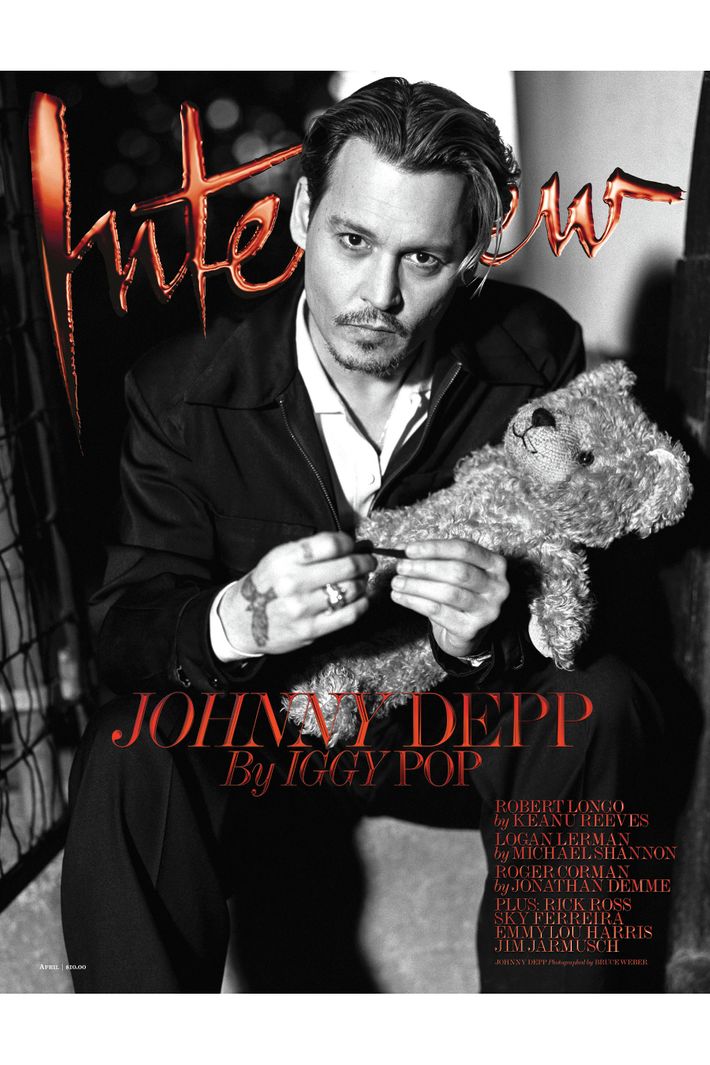 You founded DuJour, and built it up. What was it like to leave a place you had started?
It was kind of the hardest part of the decision, of course, that I had built this thing with my co-editor from the ground up, including the staff, and I had brought some of my people there as well. So it wasn't just leaving the magazine, it was kind of like a family that we had created. And of course, something that I had felt so invested in because it was something that we had built. But I feel that same sense here at Interview. I've worked here before as well, so I have a lot of relationships and a lot of people here that I really admire. So it felt like a homecoming of sorts, too.
When were you at Interview?
I was the executive editor of Brant Publications' websites, the digital executive editor, so I actually oversaw Interview, Art in America, and The Magazine Antiques, so I came here to launch their three websites, and I was here for about two and half or three years … I think about six years ago. And a lot of the same players are still here. Obviously Karl [Templer] and Fabien [Baron], Kelly Brant, and Chris Bollen, so the senior staff is still the same. So that's certainly made it a lot easier to come back.
And how's your first month been?
It's been a little over a month, it's been great. It has been an easier transition than I expected.
How so?
You know, I think it's just a very well-oiled machine. It's a very small staff, but it's a really great staff. So I wasn't walking into anything that was damaged. Everything here has been rather organized and it has a really clear point of view. First of all, I wasn't brought in here to do a gut renovation. Part of their reasoning for approaching me for this job was because I understood the brand and I appreciated the brand. So the intention was not for me to come here and do something completely different. And then, coming here, I have a good idea of what makes sense for this brand, so I'm not trying to fight it, fight against what's already here.
What's it like coming into an environment at a certain level and having to meet new people and having to be the boss?
I mean, of course there's — regardless of what level you're at, there's always a sense of anxiety when you're starting something new.
Did you feel that?
You know, this was the first job I've taken where I'm replacing someone, and that was a little bit daunting to me because prior to this I was always brought on to launch or revamp something.
DuJour is obviously a magazine that I launched, and my stints at Elle were me coming in to redesign and launch websites and iPad apps, and here I came to launch the digital for Brant Publications. I was on the launch team for MensStyle.com, which was the men's counterpart to Style.com, and my career has always been involved in launches and initiating new things, and here it's been a little bit daunting to replace someone who did a fantastic job. So part of the conversation that led to me coming here was explaining what I feel like I'm good at, and how I would be different than my predecessor. Which, luckily, they knew me and they knew what my skills are, and maybe, perhaps, some of my deficiencies are, so it wasn't this huge surprise. They knew what they were getting with me.
Did you gain any specific skills launching things that you're planning to bring to Interview? Are you approaching this like a start up?  
Well certainly, in my last job at DuJour — it was a startup, it was independent publishing — and that's what we are here, so I'm very familiar with that kind of scrappy approach, and I think Interview has an amazing heritage and legacy, but it is still a small independent magazine. So it's not as much of a culture shock for someone like me to come here and work within budgets and certain obstacles that come with independent publishing.
But in terms of my skills — I wore many hats at DuJour and I feel like I'm wearing many hats here. I'm involved in the features, the photography element of it, the fashion department, the design department, and all of the various departments. It's not so incredibly silo-ed, so I feel like I have my hand in everything, and that's certainly how I felt at DuJour.
You mentioned how, in your interview process, you had to spend time explaining how you were going to be different than your predecessor, Stephen Mooallem. How would you describe that difference?
Well, what I meant by that was just — I think there are different types of editors, of course, and I'm very different than my predecessor, Stephen Mooallem.
And because I had worked with him first time around, I was aware of what our differences were and I just wanted to make sure that in terms of our approach — not just in sensibility or our ideas, but our skills. I certainly feel like there's parts of this magazine that I'll be more hands-on with than maybe he was, and vice versa. He was probably more active in parts that I will not be, but no, there was no insecurity around that. It was more about managing its partitions, because like I said, I have really initiated so many things in my career and this was the first that was like, Oh, here's a job opening and I'm sliding into it. Of course, there's always a little anxiety around that. Will I meet their expectations?
So tell me about the first issue.
The first issue is a really exciting one for us. The cover is Johnny Depp, and this is the first time he's been on the cover in 20 years, and he's certainly a hard get in our circle, so we're really proud of that. And for the photographer, we worked with Bruce Weber, and that's another big moment for us, because we haven't worked with him as a magazine for many, many years. So that was an exciting pairing for us.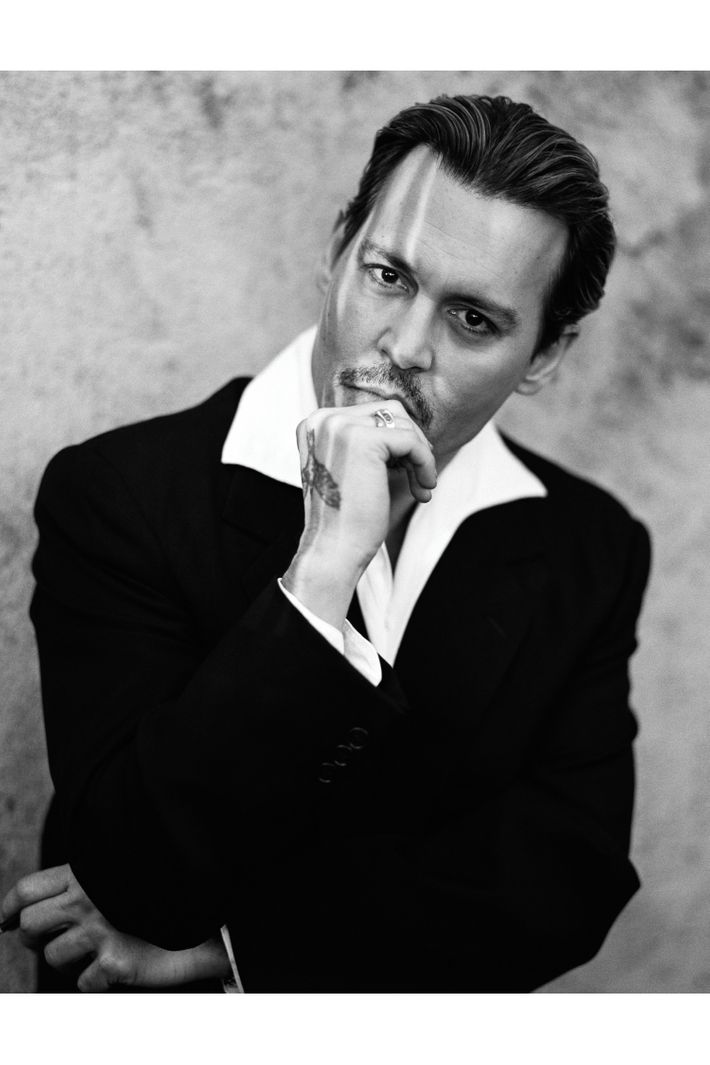 What in the issue are you particularly proud of?
[Laughs] I mean, I can't take credit for that. It's truly a collaborative effort, and I'm proud of the whole issue. It's a really well-rounded issue, with amazing features. There are some small tweaks to the [front of book]. We're doing it kind of gradually. It has a little bit of playfulness to it, Johnny Depp with the teddy bear.
Are there longer-term changes that you have in mind?
I think as a team we do. I've spent really the last month going through the archives and they are amazing, and not just the last ten years, but going back. In October we're celebrating our 45th anniversary, so there's just so much amazing material here to draw inspiration from. So whenever I have a little bit of down time, I'll just grab a stack.
We've just been looking for ideas that are out of the box. So I want to continue doing that with everyone here. So that's one thing. And introducing new categories, maybe. And types of people that we've had on the cover recently. That's kind of a priority of mine. And there's a few new franchises that I'd like to introduce to the FOB as well, but like I said, there's a few new people here, so the editorial meetings have been really exciting, because everyone's kind of questioning and proposing things and saying things like, "Let's try this, there's nothing to lose." Even one of the people who's been on staff for five years was like, You know, I never really liked this, let's try this, and let's tweak this. So it just seems like a good time to make some small adjustments.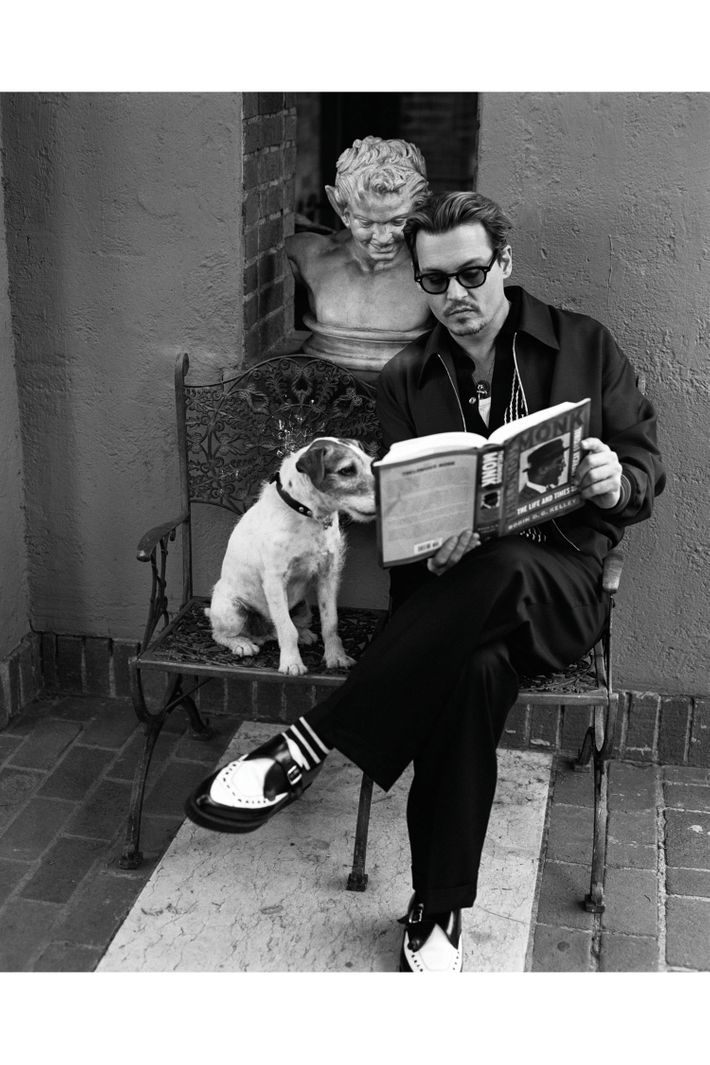 You mentioned different types of people slowly becoming part of the magazine. What do you mean by that?
I think we certainly from a cultural perspective cover newest, best musicians, actors, actresses, artists. But we're considering other disciplines as well. Like an interior designer, an athlete, a chef … there's other places that we're getting inspired by. Our senior editor, Chris Wallace, is really fascinated with scientists. So, it's like, okay. Let's do it. Let's find these people that are game changers in their field.
When you go through the archives — is that how you prepared for the job or is that something you do a lot?
Interview just has such amazing coffee table appeal. I have six old issues of Interview that I've had for many years, even before I ever worked with this brand. I have old Andy Warhol issues that are on my coffee table.
A few years ago I went on eBay and I bought a lot — like six issues that were bundled together, and since then I've built on that. I think I have maybe fifteen at home, ranging from the late seventies to the nineties.
What did you have to pay for those?
You can get really good issues online, on eBay. I think I bought five issues for a hundred dollars, and one of them is claimed to have been signed by Madonna, although I don't know if that's a fake or a stamp or something.
I know that you have a big reputation as a digital guy — not only with startups, but in the online space.
I'm like moving in the opposite direction. Basically every print person is going to digital, and I've been creeping the opposite way …
Exactly. So how did you justify the reverse migration to yourself?
What fascinates me about digital media now is that I truly believe there is an emphasis on quality content. You're hearing about websites hiring copy editors and fact-checkers and such amazing journalists are moving into the online space. I think that's really exciting, because when I started out — and granted, I've worked for amazing people — I've always had integrity in journalism, and creating content, but the idea behind digital media has always been about quantity over quality.
And when I went over to DuJour, it was truly my first print job. It was the first time I was really responsible for a print product, and it was truly inspiring to me. The visual component of it, the quality of the writing, the rounds of editing — that doesn't really exist in the digital space. So, just this idea that you're creating a product that you want to stand for something and to actually hold up. That isn't the purpose of an online editor. And so I was really drawn to that, and I feel like Interview has such integrity, and that's really about the quality of the product and the beautiful photography and the smart pairings of the subjects. And it holds up.
I've worked on websites that don't even exist anymore. I can't even point to them. Like, so many of my jobs in life — their links are dead, you get 404 pages and you're like, I spent so much time on this thing that ultimately it looks a little bit disposable. I worked at MensStyle.com, which doesn't exist anymore, I worked at … twice I worked for Elle.com and a variety of other websites that have since been redesigned, and they will not carry that content over. So there's something very beautiful about that, and I get really inspired by digital strategy. Not necessarily the content creation part of it, but the challenge of creating a website and user experience. All those things are really inspiring to me, but I feel like that's the same skill that I have as a magazine creator.
So people think you're this digital guy —
Yeah, I mean, I'm the digital guy.
And yet that's not necessarily the case.
I'm not just a digital person, but a print lover. Like I'm also just, I don't know, getting older. [Laughs] I feel like when I talk to people about all these … I can't keep up with every single blog that's sprouting up, but I do love magazines and I love the art of magazine-making. So that's kind of where my priority is now, and it's a month in. But we are also really integrated here, so the web team is involved in the print conversation, and a lot of the print editors are involved in the site, so I feel like it's modern in that way.
Well, it's also helpful that it's in this big, open space —
Yeah, it's like the Factory. [Laughs]
Another dominant conversation in the fashion industry has been racial diversity, or lack thereof, on the runways. That criticism has also bled over into editorial as well. There's been a constant drumbeat to increase faces of color in magazines. Is that something you think about?
Of course, I think every magazine staff that I've ever worked with is aware of this issue, and it's unfortunate that it has to be such a conscious effort but at this point it still is, to make sure that you are showing diversity. But it's of course a consideration in our industry, and as long as we're continuing to be mindful of it … I know there's a big controversy about what's happening on the runway.
I think for as long as I've worked in the media, it's a consideration that's part of the conversation. It's making sure that you represent minorities and you bring in other perspectives, try not to be too, um, white. But we have really celebrated such a range of people that fortunately it's not as much an issue here. We don't sit around meetings saying, Who's going be our black actor in this issue? We really have always just looked at talent and that comes in every color.
Vogue just did its Kim and Kanye cover, which has been pretty divisive. Vogue was responding to what's happening in the popular culture, and people are taking them to task for it, saying that it seems A) like Vogue is stooping below what is deemed to be the "Vogue brand" and B) that they're trying to curry favor with "millennials …"
I feel like it's all ridiculous, though. We are also an entertainment industry, and we are responsible for responding to what's happening in the world, and I'm sorry, Kim Kardashian is incredibly famous.
Why is Vogue not allowed to stray from what is their typical cover? Anna has always said, whether it's true or not, that they are looking at what's happening in pop culture and responding to it. This isn't the first time they've put someone on the cover who is unexpected. That's the other part of magazines that I'm always fascinated by, is an element of unexpectedness. If we can't keep people interested and guessing who's going be on the cover and inside, then we're not doing our jobs.
I hope in the near future we have a cover that makes people freak out. We have to keep people excited and talking and we have to be provocative and we have to throw curveballs, that's exactly what we have to do. Otherwise, what's the fun?
This interview has been edited and condensed.