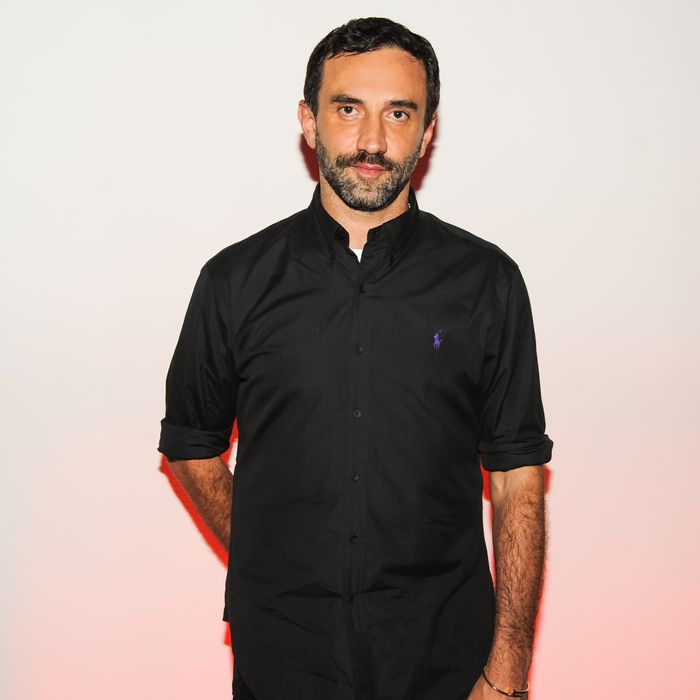 Photo: Neil Rasmus/BFAnyc.com/BFA NYC
When sitting down to talk about his new sneaker collection for Nike, Riccardo Tisci lights a cigarette and begins to gesticulate over an assortment of these shoes, which are arranged on a coffee table in his hotel room like small sculptures on a pedestal. Except, from the look of them, they're more like artifacts from the year 2214: spotless white and black sneakers with electric-orange and blue accents, and a giant, lace-up gladiator boot.
The Nike + RT collection, which launches Friday (and which will be sold at a few boutiques around the world, including a pop-up shop at 151 Wooster Street in Soho through the weekend) is comprised of four styles: the Nike + R.T. Air Force 1 Lo, the Nike + R.T. Air Force 1 Mid, the Nike + R.T. Air Force 1 High, and the Nike + R.T. Air Force 1 Boot. The shoes range from $240 to $340 and there are more pairs for sale than there have been with past celebrity collaborations (it will go to additional retailers soon.) That's because Tisci's central message is accessibility: Growing up the son of a greengrocer in Puglia, Italy, he played basketball in Nikes and has since made Air Force 1s something of a signature. So, Tisci, the creative director of Givenchy, says it was important to him to create a collection that was within reach for the "kids": young fans wanting a piece of him (and Givenchy) who might not be able to afford something from his ready-t0-wear collection.
"I know what it's like to be frustrated, to not have money to buy something that you love," Tisci told the Cut. "The most important thing for me before we signed the contract was to sit down and say, Okay, they have to be design shoes, but they have to be reachable for everybody."
The Cut spoke with Tisci about the collaboration, his obsession with Frida Kahlo, and why it can be a good thing when celebrities wear sneakers on the red carpet.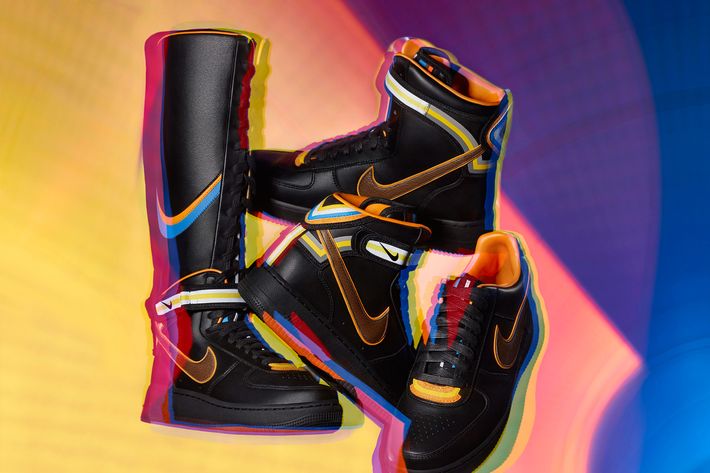 I know you've been wearing Nikes since childhood. Why did this collection have a personal connection for you?
Basically. I'm the kind of person who's quite obsessive about what I'm going to wear. I'm not very crazy in what I'm wearing. When I like a pair of trousers I wear that, and Nikes were the shoes I had worn for like 15 years. It's been always the same one. Sometimes I had the white-and-red one, sometimes I had the white-and-gold one, white and blue. But mostly the white one, the classic one.
So for me it was very related. When I was asked to do this project, it was very natural for me to say yes. In the beginning I had a little bit of doubt because I didn't know what I could bring to Nike, which is such a big company, with experimentation. They're so good at what they're doing. When they told me what the project was about, I felt at home. I know the shoes very well, so I knew what I wouldn't like to change, and I knew what I would just like to add. Because when you wear something it becomes part of your life.
I was so excited about this project, and I knew this was the right one. When I made all of them discuss it, we all knew this was the right one. We didn't even need to talk to merchandising about it. Everybody said, This is success. It was an amazing experience. I've never given myself to anybody else, apart from Givenchy, because I've been working there for ten years. And I've been asked so many times to be doing things. It's not that what I was being asked wasn't amazing — it's just that this [collaboration] was very natural and I want to do just things that belong to me and my style.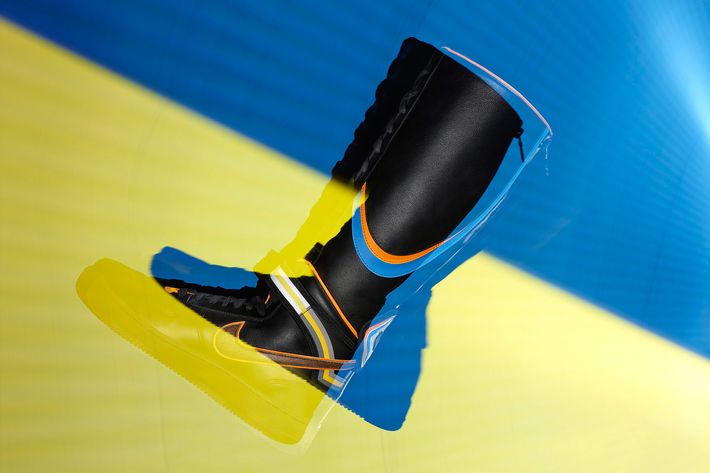 Why did you decide to bring your beloved Air Force 1 into boot form? 
This decision, that is the bridge between design fashion and design sportswear. I think sports movement and dynamism has always been related, since history, to gladiators, to the sense of the strength. I love the shoes so much, and one of the things that I've been doing in fashion are these gladiator boots. It's the fact that a woman or man can be very strong while in the shoes, even for summer or winter. I didn't want to adjust the shape of the shoes; I kept the classic feeling of the shoes, I just really wanted to bring a little kind of new shape. To open up the classic and make two new shapes.
You've said that you want kids to be able to buy these shoes, that you want this collaboration to be accessible to your fans. Why is that important to you?
Because I come from an amazing family, but I was not so financially lucky when I was young. I always dreamed to be a part of a gang, to be part of a sort of a design gang. I've always been dreaming to be a part of some tribe. Especially when you're young, you want to find your tribe because you want to find your identity. And I know what it's like to be frustrated, to not have money to buy something that you love. And a lot of the young generation love what I'm doing. The most important thing for me before we signed the contract was to sit down and say, Okay, they have to be design shoes, but they have to be reachable for everybody. Because I want every kid in the world to be part of this journey of Nike + Riccardo Tisci.
And how do you feel about people who wear sneakers on the red carpet?
I like it. I like the freedom of expression. I think if you're doing it in good taste, you're doing it in a good way. One of the most amazing men who did it in the '90s was Johnny Depp, who wore a beautiful gray suit and sneakers. I thought that was a beautiful statement, because it's just about you feeling good — about you feeling cool in it. Everything has to be done with elegance, so I think there is this big thing about the luxury world and the sport world that we have in our head. But if you have good taste and good style, and you know how to put trainers with a beautiful lace dress — I've seen girls wearing that, and I think that's quite cool. The way I push this to my friends is a beautiful Victorian lace dress with Nike shoes for a girl and for a guy to put on pleated trousers, with a beautiful white shirt, and Nike shoes, and I think that is really cool and still elegant and sophisticated.
Sophistication and elegance is something that you don't buy. You have it inside your blood, inside your body. It doesn't matter where you're from. From a poor family or a rich family, it's inside you.
Is there anyone in particular you'd like to see wear the shoes?
In this life?
Sure, in this life, or in another life.
Frida Kahlo. These boots are very Frida. She's one of my big obsessions of my life. I'd love to see Björk wear it, I'm sure she will. All of these girls that I've known many years — I'll see how they interpret them. We've already seen Rihanna wearing them at my show. She wore it with a men's suit. Courtney Love is going to wear it, Madonna is going to wear it. I think it's a beautiful thing that you can interpret it different ways. It can be rock, the black one, the boots, it can be more young, more rap/R&B, sophisticated. I think it's quite versatile.
What do you think about recent couture sneakers that are covered with beads, and cost thousands of dollars?
There's a space for everything. I do couture, I'm lucky because I'm only 39. I've been lucky to do projects: perfumes, costumes for theatre, Nike … I've been doing so much. But I think when it gets too not accessible … I think the fact of having couture is something very important, but do believe as well that the people who do couture should also have something for everybody. It can be very expensive couture shoes and trainers, but I think these ones make me more happy to see around. I love to see how people interpret shoes and clothes, I think that's nice.
Would you collaborate with Nike again? Are there any plans to collaborate with Nike again in the future? 
We don't know yet, but we would love to, yes. You ask me in front of the Nike people, and think I'll say no?! I'm joking.