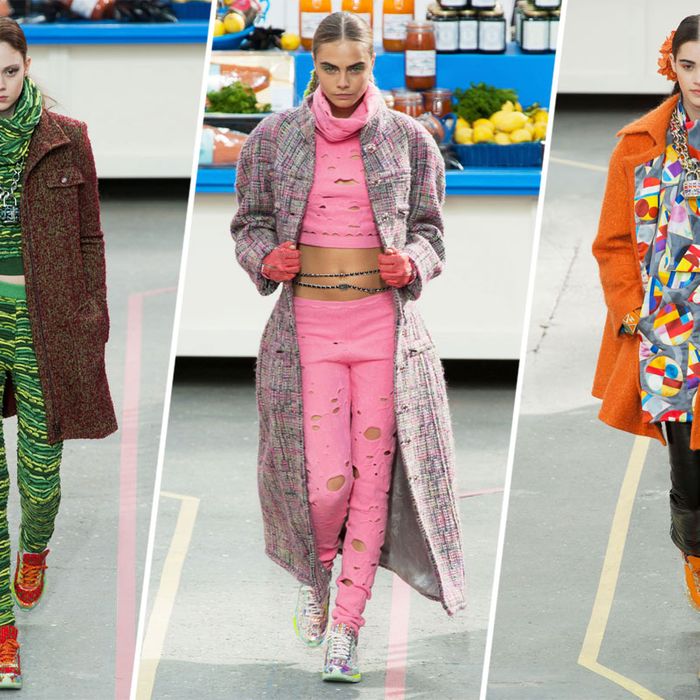 Anyone who has ever wandered through a Wal-Mart or a Target, looked around at the flow of humanity and recoiled in dismay at the abundance of sloppy sweatshirts, yoga pants, grubby sneakers, and scrunchies would have been especially charmed and cheered by Chanel's fall 2014 runway show.
It unfolded in a fantasy land of perfectly styled shoppers, aisles filled with flattering light, and elegant packaged goods. It was the ultimate pop-up: a Chanel supermarché.
Designer Karl Lagerfeld constructed a full-service market under the soaring Beaux-Arts dome of Paris's Grand Palais. As guests arrived for the Tuesday morning show, they strolled past the checkout lanes of the "Chanel Shopping Center." The produce section was up front, its stalls stuffed with bananas, garlic cloves, potatoes, apples, assorted lettuces, and oranges. Adjacent to it were elaborate displays, including an enormous pyramid of coconuts. One aisle over, there were boxes of Chanel lentils and pasta, cans of Gabrielle peas, and bottles of milk bearing the double-C logo. (And, lest you grab for your shopping bag and start firing up Orbitz, the market was just a set. Whole Foods has nothing to fear.)
Few companies manage their brand name as well as Chanel. Rather than diluting it by placing it on cans of mushrooms, the kitschy setting allowed the haute-couture house to show off its sense of humor with a knowing nod to its own exclusive reputation. It could revel in the absurdity of Chanel jasmine rice while recognizing its place in a culture in which weirder things have happened.
The models, with their hair pulled into ponytails laced with shredded ribbons, followed a designated path through the store, showing off their nubby tweed coats with bellows-shaped sleeves, geometric-print dresses with wide-corset waists, distressed knit leggings with matching sweater-coats, and butterscotch-colored suits trimmed in red.
In a nod to the hoi polloi that seem stuck in yoga pants —  no matter the time of day, no matter that they don't know a downward dog from a sun salutation — there were plenty of nubby knit leggings, iridescent and just plain comfortable-looking, paired with swing coats and poorboy sweaters. Chanel sneakers glowed with a radioactive iridescence, and several models carried designer shopping baskets filled with small Chanel handbags.
The collection was another of Lagerfeld's wild riffs on the house's signatures. But on his fall runway, he stuck mostly to subdued daywear, with a few splashes of black and silver sequins to liven up an afternoon juice run.
Lagerfeld is no stranger to big gestures on the runway. This is the man, after all, who imported an iceberg for a fashion show. But his market setting was notable in that it placed the clothes against a backdrop with some semblance of normalcy. Once the models had made their initial pass by the audience, they continued to circulate through the shopping center. They strolled around grabbing items from the shelves and dropping them into their little handheld baskets. Some even pushed full-size carts, loading them up like they were preparing to feed a family of four.
It was a comical scene, but it also allowed the audience to envision the clothes outside the fashion bubble. It excised a bit of the preciousness. After all, it's hard to look lofty when you're pushing a shopping cart filled with cornflakes.
The market setting implies that Chanel can and should occupy a place in a woman's daily life. (Bank account, be damned!) The house has party dresses for her charity galas and leggings for afternoon errands. But the other part of that message is that those errands are a lot more glamorous if they are done while wearing Chanel.