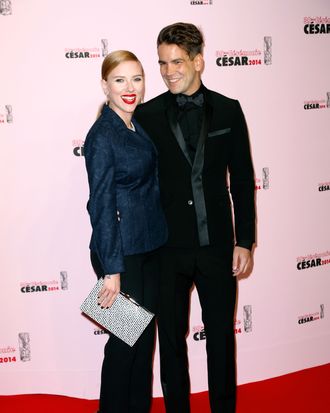 Photo: Rindoff Petroff/Hekimian/Getty Images
ScarJo and her French journalist boyfriend, Romain Dauriac, must have done it at least once, because they are expecting a baby! That's what that means, you know, when people are expecting a baby. Scajourno have exploratory plans to marry at some yet-to-be-determined point in the future. 
Anyhow, early this fall Johannson spoke about how she was edging toward the "motherhood" stage of her acting career, so now it's off to the matronly races! Teasing, teasing — should Johannson ever actually be described as matronly the world will have experienced its first-ever opposite day, and everything will return to normal by nightfall.