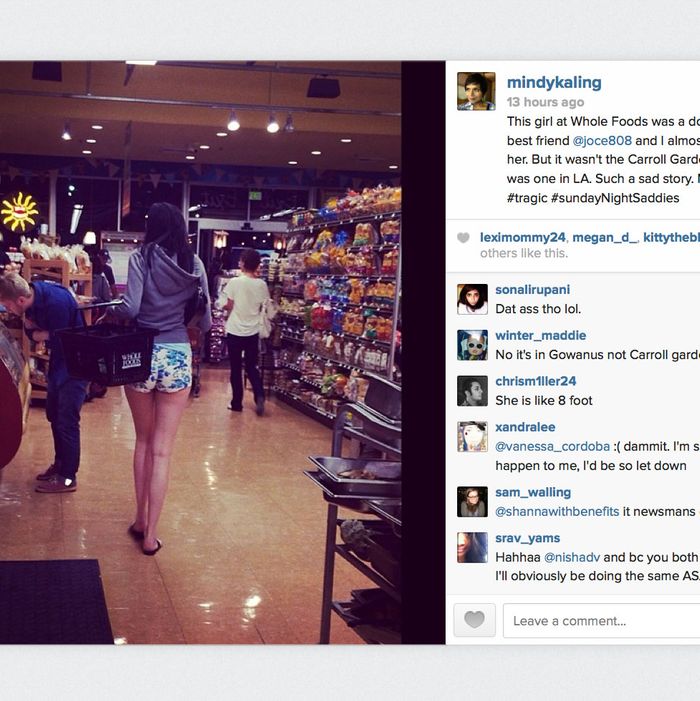 Photo: mindykaling/Instagram.com
When famous-friend Mindy Kaling was grocery shopping on a Sunday night and saw someone who looked like her best friend, she didn't do what any normal best friend would do. She didn't privately call or text her friend to say she had a doppelgänger. Instead, she sidled up behind this non-friend person, took a creep shot, and wrote a sweet ode to her beloved:
This girl at Whole Foods was a doppelgänger for my best friend @joce808 and I almost ran up and hugged her. But it wasn't the Carroll Gardens Whole Foods it was one in LA. Such a sad story. Miss my best friend. #tragic #sundayNightSaddies
This is totally bonkers-behavior. But this is outstandingly endearing bonkers-behavior. I can't imagine ever dealing with friend-missing grief by creeping up on a passerby at Whole Foods, but I would be outrageously flattered to be the best friend recipient of this inappropriate photo-snapping. I don't even think I would mind being the creep-shot doppelgänger. Use me for your friendship mourning! Missing friends is difficult. Grocery shopping on Sunday nights is a whole genre of blues. However you deal with all of this is the right way to deal with all of this. Continue on with your lives, continue being best friends — near, far, wherever your Whole Foods are.