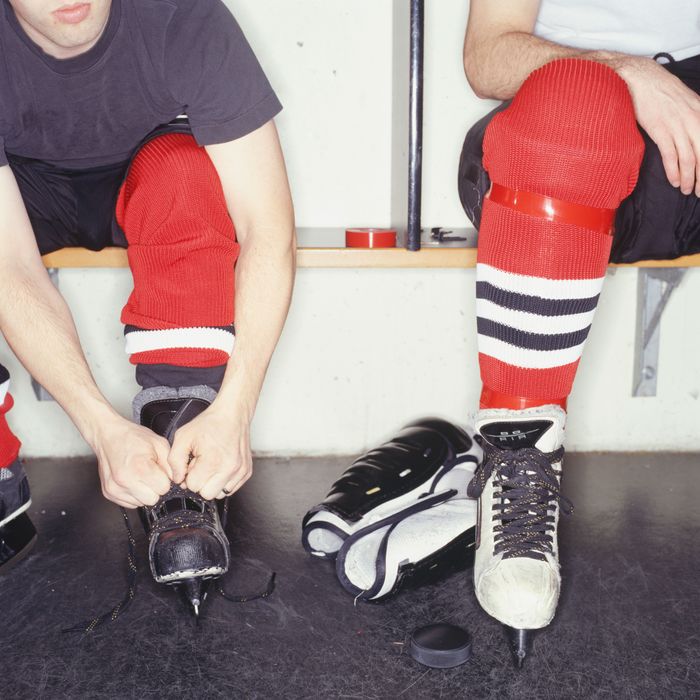 Photo: Ryan McVay/Getty Images
Somewhere in England, a man is doing a Ph.D. about how men select natural leaders by eye-balling junk size in locker rooms. Because this is Ph.D. research, all this information is probably going to be presented in a businesslike fashion across a conference table in a stuffy room. If the chairs swivel at all, I predict a lot of awkward swiveling.
Anyway, this researcher, University of Brighton's Dr. Christopher Morriss-Roberts, interviewed a small sample of athletes — eight men who played a bunch of sports (football, rugby, tennis) in London. Half the men identified as gay, half as straight. Morriss-Roberts writes in Outsports:
This knowing of who has a large cock and who didn't within a homosocial environment helped individual sporting males climb up a social hierarchy of importance. Those with the larger penises were revered and idolised by their teammates as a symbol of masculinity… In the thesis I argue that a large penis is now an essential component of hegemonic masculinity, and should be considered a new tenet of masculine capital - taking into account the significance it has on social hierarchy in the sporting environment. I have called this cock-supremacy.
All right. Everyone take note.