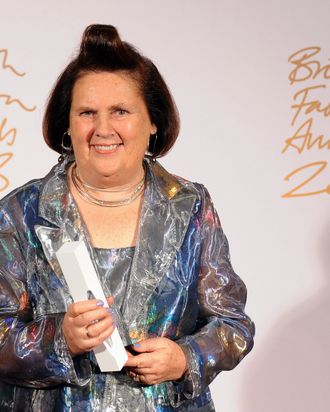 Photo: Stuart C. Wilson/Getty Images
Suzy Menkes is leaving her job as the fashion critic of the International New York Times (née Herald Tribune) after 25 years: She's been appointed international Vogue editor, and will serve as a reporter and critic on its international websites — including Britain, France, Italy, and China. It doesn't appear that she will contribute to American Vogue.
"I am grateful to have spent 25 years at the International Herald Tribune — a newspaper where I had unstinting support in being able to express myself freely and honestly," Menkes said in a statement. "I feel this is the perfect time to embrace a new challenge in the digital age."
According to The Telegraph, there are rumors that Menkes was unhappy at the IHT after it rebranded itself as the International New York Times last year. The news comes on the heels of Cathy Horyn's departure from the New York Times as its lead fashion critic, leaving even more of a gaping hole there. (Horyn still hasn't been replaced.) It's unclear when Menkes will begin her new role — and who will replace her — but we're looking forward to seeing her signature pompadour pop up in the Vogue section at shows next season.
An internal email circulated to staff by Stephen Dunbar-Johnson, the president of international for the New York Times company (and former IHT publisher) and Dick Stevenson, Europe editor, signaled that decisions about a "new lineup" of fashion coverage will be announced very soon. Here's the internal memo: 
Dear Colleagues,

After 26 years Suzy Menkes has decided to leave us to take up a new challenge with Condé Nast Online.

Our paper, throughout its 126 year history, has always covered fashion assiduously. Eugenie Shepherd and Hebe Dorsey were wonderful fashion critics who helped set the foundations of our strong reputation in this area but Suzy with her fierce intelligence, razor sharp pen, love for fashion and enormous capacity for hard work has built it from there and we think it no exaggeration to say we have become THE global medium of record for the fashion industry. Her legacy will be with us always.

Change is good and we understand why, after 26 years, Suzy wants to move on to a new challenge. We, too, will move on with our commitment to covering fashion to the highest possible journalistic standards as resolute as ever. The New York Times, The International New York Times, our web site and our mobile platforms reach a global and highly influential audience as you all know and they provide our fashion writers with an incredible platform. We will be announcing a new line up to take our fashion legacy into a fresh new era in the very near future.

Stephen and Dick
 This post has been updated throughout.