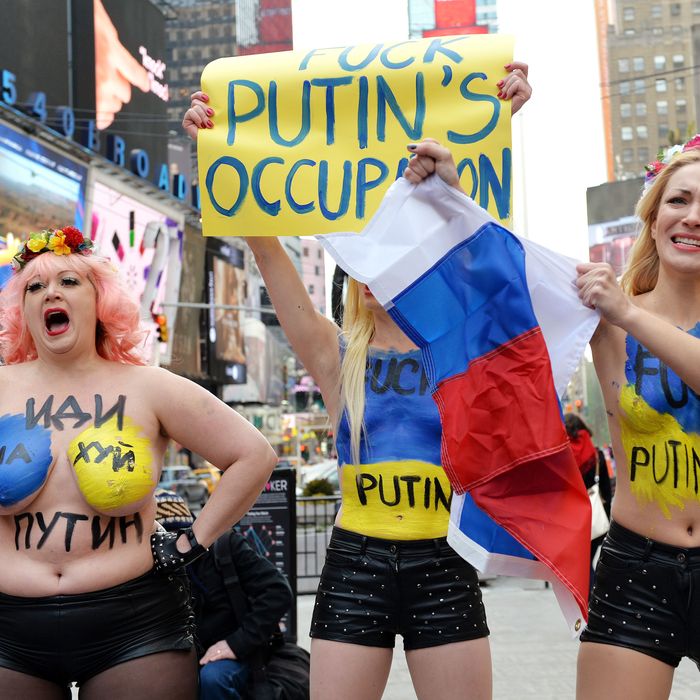 Photo: STAN HONDA/AFP/Getty Images
"I wish I could be in Kiev's Independence Square, not Times Square," Inna Shevchenko said. It was below 20 degrees when the FEMEN ringleader arrived at the latter on Thursday morning, accompanied by a member of the group's Canada chapter and three local performance artists — all with "FUCK PUTIN" painted across their bare breasts. A native Ukrainian, 23-year-old Shevchenko has been in exile since 2012, when now-deposed President Viktor Yanukovych ordered severe punishment for her destruction of a giant wooden cross in central Kiev — an act committed in solidarity with Russia's Pussy Riot. She fled to France and eventually received political asylum.
But yesterday, it was "the glory of Ukraine" she shouted about as she tore the Russian flag in half for a small audience of journalists and tourists, plus a handful of construction workers straight from central casting. ("Fucking lunatics, it's fucking freezing out here.") Shevchenko told reporters she was protesting Russia's occupation of Crimea and demanding tougher sanctions than the visa restrictions U.S. officials imposed yesterday. ("Do you think this can stop such a guy as Putin?") A Times Square public-safety officer monitored the situation, narrating into her cell phone.
Later — and warmer — at a Starbucks a few blocks west, Shevchenko explained that the morning's demonstration was not one of the topless feminist activists' signature "sextremist acts." A sextremist act is something like what happened in Crimea the same day: Several FEMEN members interrupted a pro-Russia demonstration and were promptly beaten, teargassed, detained, and sent back to France. Times Square was merely a "symbolic act." "It's very good practice for the women who want to be in FEMEN," she said.
Indeed, the purpose of Shevchenko's visit is to recruit women for a new American FEMEN chapter — although the trip was financed by the publicity budgets of two documentaries about FEMEN screening at South by Southwest. "I had to wait for this fucking film to appear for me to be invited," she said. "We couldn't afford to come to the U.S. ourselves." Shevchenko said the group does not receive money from any governments — "not that they would" — and fundraises via PayPal and an online store.
Since FEMEN announced the U.S. expansion online, it has heard from between 50 and 60 American women, many from places more hospitable to toplessness than 20-degree Times Square. "I was surprised that I have so many emails from women from California," Shevchenko said. "We also have a few activists in Texas who are ready to act." Still, she expects the ranks will dwindle after women go through FEMEN training and experience police aggression.
Shevchenko runs boot camps periodically out of FEMEN's European headquarters in a Paris squat, and plans to open up a similar shop in New York or Washington D.C. There, women will be taught how to use their bodies to convey power and aggression. (FEMEN members wear flower crowns and makeup, but they never smile.) "Sometimes when you say to a woman 'Scream!' she cannot, just because she never did it in her life. Why would she scream in the street 'Fuck Putin!'?" Shevchenko said. "It looks like a small thing, but, psychologically, this is how society had us grow up: keep silent, smile, don't scream."
FEMEN used these tactics on the man himself about year ago, when three topless members ambushed Putin and German Chancellor Angela Merkel at a trade fair in Hanover. Putin pursed his lips and flashed a double thumbs-up as his security pummeled the women. Afterward, he told the press he hadn't noticed whether his assailants were blondes or brunettes. Asked if Putin's response undermined FEMEN's mission — recontextualizing the female body as a site of political anger — Shevchenko was adamant it did the opposite. "What do you expect from that guy?" she said. "His image was destroyed because he was surrounded by dozens of guys and seems so untouchable but two naked girls ran right through. It was the only thing left for him to do to save his cool-guy image."
The U.S. lacks its own Putin-type symbol of oppression, which makes it trickier to find a single person who embodies FEMEN's three enemies — religion, dictatorship, and sexual exploitation — as a target for stateside actions. "It's a very interesting country because it's very free and very conservative at the same time," Shevchenko observed. In general, she has Republicans in her sights. "The lobbying of laws that religious institutions want is committed by Republicans, right?" she explained. So, "of course any Republican politician brave enough to express his oppressive opinion will not walk normally in the streets if FEMEN exists in America."
Shevchenko is prepared for blowback for her anti-religion message, especially in a country as committed to faith and tolerance as the U.S. (Charges of Islamophobia followed FEMEN's "Topless Jihad Day" abroad, but she remains unapologetic.) "I don't want to tolerate something that is intolerant to human rights, and I cannot respect something that doesn't respect my rights as a woman," she said. "Why should I? I don't want religious fanatics to like us or support us."
Asked if it was hard not to be in her home country amid the turmoil, Shevchenko flashed a "duh" look. It's her country that's burning and her colleagues and journalist friends getting shot by snipers. But, she said, that's also what made her an activist "so resistant to all these systems." "It would be the most stupid thing to go there to be arrested at the airport," she said. "So even though it sounds very strange, I'd rather prepare strong soldiers who could probably make revenge for all of us."