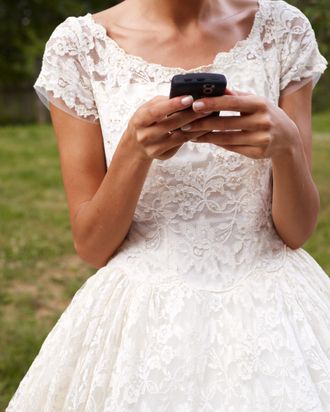 Photo: Noel Sutherland/Getty Images
The W — consummately nice venue — is here to offer you everything you didn't know you wanted for your wedding: a $3,000 wedding-social-media concierge. Here's the W's buzzy description of this new job:
From live tweets and #hashtags to Vine videos and Instagram filters, W's Social Media Wedding Concierge will document that "I Dos" and encourage guests to utilize a dedicated wedding hashtag for every one of their posts.
Translation: Your temporary employee will frantically run about enforcing unified hashtagging, create GIFs of bridesmaids sauntering down the aisle in one-shouldered violet sheaths, fervently tweet damage control after a bridesmaid-trip goes viral, and monitor your guests' Instagram filters (if any of you amateurs even considers X Pro II, you will be banished from the open bar).
Does this sound like what you need to take your dream wedding to the next level of annoying? Perfect. You and your beloved should hurry up and get married in the next nine months; the W Hotel's press release (according to Huffington Post tech editor Bianca Bosker) notes that this hashtag-fascist (hashist?) service is only available through December 31, 2014.