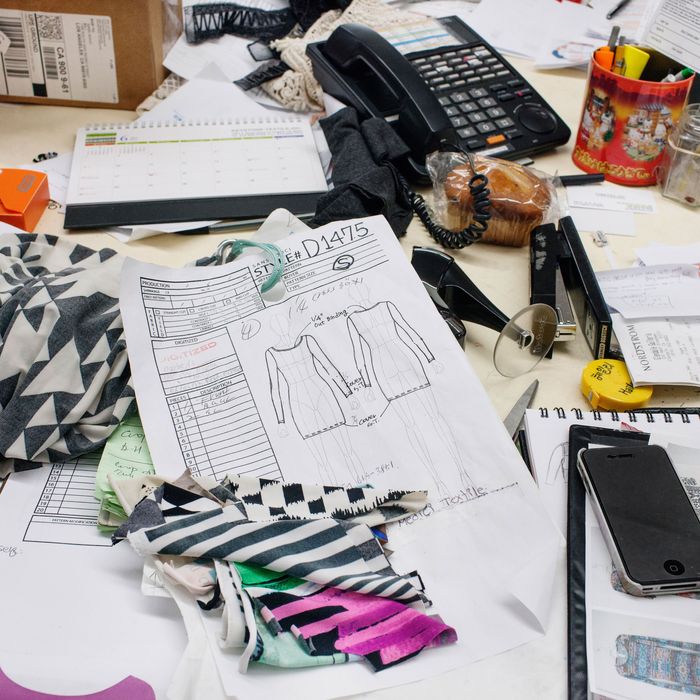 Any idea where those $12 Forever 21 skinny jeans or that $100 Zara knockoff Céline coat actually came from? Christina Moon, an assistant professor at the New School, spent two years exploring L.A.'s Korean garment district (a.k.a. the Jobber Market) to learn how one neighborhood in downtown Los Angeles became the "nerve center" the country's fast fashion.
After a migratory pattern that stretched over 50 years, in which Korean garment workers moved from South Korea to Brazil and Argentina and, finally, Los Angeles, immigrants (mostly Korean and Mexican) took up residence in the the 30-square-block Jobber Market and began to set up shop.  The area is home to Korean-owned businesses where the entire apparel cycle — from design to production, logistics, wholesaling, and marketing — takes place.
As Moon describes it in Pacific Standard: "Thousands of glass-fronted ground-floor showrooms, set into long single-or two-story buildings, line the streets. The sidewalks bustle with deliveries and pedestrians. Mannequins flank each entrance, displaying garments unpacked from the shipping containers that arrive daily from Asia at the Port of Los Angeles."
In 1984, Forever 21 was a single store in Highland Park and would send buyers to the Jobber Market to snap up the trendy, cheap, quickly made garments. By 2001, F21 became known for inexpensive, on-trend designs that changed almost daily and had about 50 stores across the U.S. — all thanks to the family businesses in the Jobber Market. To this day, the company still sends buyers to the neighborhood.
Now about 6,000 businesses operate in the area — from multi-million-dollar enterprises to mom-and-pop shops, all selling garments to Forever 21, Urban Outfitters, T.J. Maxx, Anthropologie, Nordstrom, and others. They're making designs from Paris runways available in suburban malls all over the nation in under a month.

Read Moon's entire fascinating piece here.