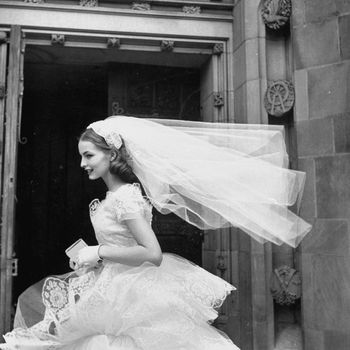 Photo: Leonard McCombe/Getty Images
Whether you are planning a wedding or just in the mood to sample some tiered cake, you'll want to check out New York's annual Weddings Event, which will be held at the Metropolitan Pavilion on Thursday, March 27, from 5 to 8 p.m. The Cut is giving away a pair of tickets, which includes access to over 100 of the city's most tasteful bridal designers, jewelers, florists, and more. You can browse wedding gowns from Kleinfeld Bridal, sample sweets from Ladurée, and even explore Tattly's various wedding-appropriate temporary tattoos (all while enjoying complimentary wine and beer).
To enter, post your most embarrassing bachelorette (or bachelor!) party story in the comments before noon on Wednesday, March 12. We'll award the person with the most cringe-worthy tale with two tickets to the event, plus a special gift bag. Good luck!