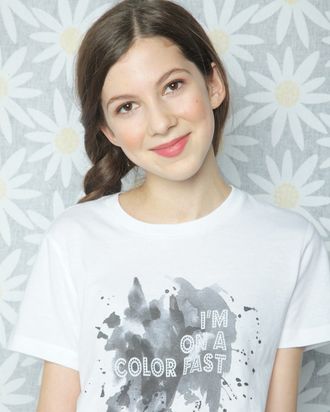 Photo: Courtesy of Isabella Rose Taylor
While her peers are busy waiting to get their braces off, Isabella Rose Taylor is already selling her namesake line at a major department store. According to a Fast Company profile today, the line will debut at Nordstrom for back-to-school season in August, which also happens to be prime "Why can't you be more like Isabella Rose Taylor?" nagging season for her classmates.
The Austin, Texas, native — who attended sewing camp at age 8 and held her first trunk show soon after — credits her success to "blood, sweat, and glitter" in the profile. But it sounds like she also benefited from the ministrations of grown-ups — specifically Liza Deyrmenjian, founder of consulting firm Fashion Accelerator 360, who has worked with Project Runway alum Jay McCarroll and helped Taylor with the practical side of her business. Says Deyrmenjian: "Isabella has a very honed aesthetic. She's very on point with her market, and is an incredible creative director." Remember, this is a seventh-grader we're talking about.