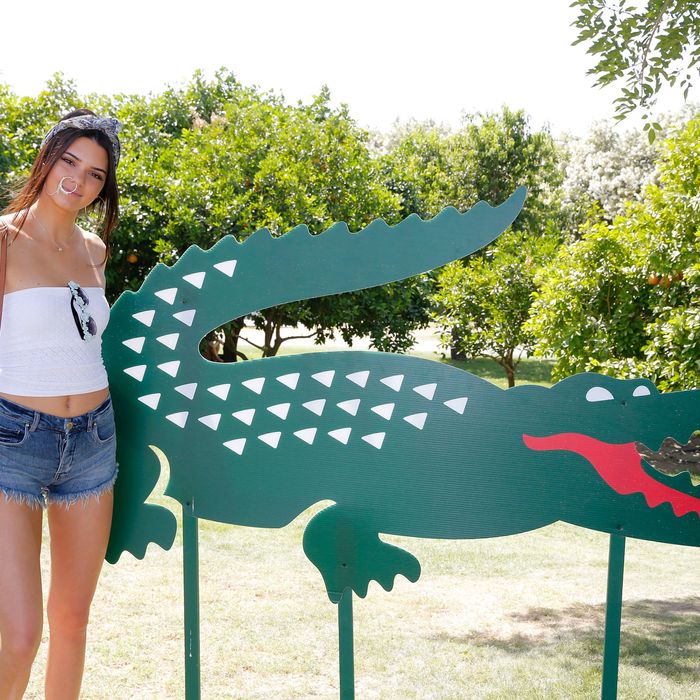 Photo: Joe Scarnici/Getty Images
Pinpointing the moment when fashion at summer music festivals became absurd is not an exact science, but let's say it was April 18, 2009, when Drew Barrymore attended a Coachella performance by M.I.A. wearing a Judas Priest shirt, Japanese-floral sweatpants, a feathery hairpiece, an un-knotted skinny tie, and, confusingly, a trifecta of eye liners in gold, white, and cadet blue swiped from the middle of her eye to the start of her hairline. It was the definition of "doing too much." The best (only?) explanation was that Barrymore was paying homage to M.I.A.'s mix-and-match fashion, but it emerged more like a college sophomore ditching finals week for an electro-clash revival.
Barrymore's done much better since then (though not at Bonnaroo that same year, when this happened) — but somehow festival style has gotten increasingly worse. Though it's true for all festivals, Coachella is where fashion calamity is most acute, if not because of its scope then because of its proximity to Los Angeles. Celebrities at festivals can now be divided into two groups: Those who use it as an opportunity to unveil their interpretation of "hippie style" and, more recently, those who have milked it as a branding endeavor, one in which the tweets, Instagrams, and hashtags related to fashion sponsorships outweigh those related to the music.
Festival fashion has become a cottage industry unto itself, with retailers tailoring campaigns and sales to the season, and style galleries becoming an integral part of festival coverage — an effect that parallels, to some extent, the rise of street style as a phenomenon. But in 2014, we are nearing a festival-fashion tipping point: a moment when oversaturation promises to eclipse any creativity.
Coachella's style tropes are broad, ranging from just-off-the-runway Carven to Laurel Canyon boho to rave-inspired cartoony costumes. (Or, if you're Rita Ora, you might wear a fall Roberto Cavalli gown, because whatever.) Hippie-approximating festival fashion is the most common of these options. It typically includes cut-off shorts, dreamy frocks, flower crowns, and fringed things — presumably worn as some jaundiced homage to the original festival, Woodstock; a sartorial attempt to replicate the summery love this generation presumes was fertile in the summer of '69. (See: Selena Gomez in head-to-toe Free People.) The Native American headdress is a dangerous close cousin — witness Alessandra Ambrosio's insensitivity — and also on the rise is the "fashion bindi," as seen at Coachellas past on feckless, presumably not-Hindu starlets like Sarah Hyland, Selena Gomez, Kendall Jenner, and Ellie Goulding. Jenner also appeared at Coachella last weekend in a fist-sized, faux nose ring "borrowed" from traditional Indian weddings, while Vanessa Hudgens rocked so many offensive looks that some Tumblrs crowned her Worst of Coachella — which didn't stop her from repeating herself during weekend two (#bindipower). How many think pieces must be written until the foolishness ceases?
Pair that with the weekend-long press shilling that Coachella has become: Over the last three days, Instagram was clogged with carefree, desert photos of celebs like Cara and Poppy Delevingne (#superdry;#superdryfestivalstyle), Emma Roberts, Dianna Agron, and Kendall and Kylie Jenner, as well as bloggers like Man Repeller's Leandra Medine, flossing selfies with their outfits tagged and catalogued. Vanessa Hudgens posed by a Corvette and shouted out @Chevrolet (#stingrayoasis); Paris Hilton claimed to prefer her @OfficialSpyder (#rideaspyder). Lacoste and their cloying #livebeautifully hashtag was the most ubiquitous, with Lea Michele, Medine, and Roberts wearing items from, and dutifully tagged to, the brand every day (Roberts threw in a few shout-outs to Kate Spade Saturday, too, because, obviously, #saturdayis.) Kylie Jenner tagged online accessories store @thehunt (#kylieonthehunt), as well as @DL1961denim (#instasculpt??), while Sarah Hyland shouted out @botkier (#botkierbabes) and @shopkrown for some kind of beaded headpiece. Of course, labels recognize the power of Instagram, and potential viral-ness should these faces end up in Coachella fashion galleries. The latest, Coachella-spoofing episode of V-Files' "Model Files" jokes, "Lea Michele is getting paid $20,000 to wear a Lacoste T-shirt."