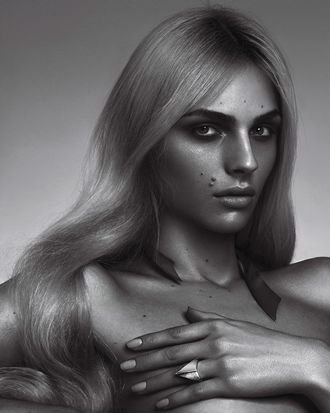 Photo: Rowan Papier Studio
Four years ago, when model Andrej Pejic walked in the John Paul Gaultier show, people weren't sure what to make of him: Here was the prettiest woman they'd ever seen — with long blonde hair and high cheekbones — who just happened to be a 19-year-old boy from Serbia. 
Over these last few years, Pejic — who now identifies with female-specific pronouns — has landed major jobs in the fashion world: walking in men's and women's shows, and modeling in countless editorials. And around her there have gradually been more images of gender diversity in the fashion world, with models like Casey Legler and Lea T rising to fame, as well as Barney's much-lauded transgender campaign.
Now Pejic is branching out — and, as many models do, building her brand. Last night at the Gilded Lily, she launched a line of minimal 3-D-printed jewelry in a collaboration with the brand Sam H Snyder. Next, she is shopping an almost-finished autobiography around to literary agents, filming a documentary about her life, and plotting a move into modeling cosmetics. She spoke to the Cut about building Andrej Pejic Inc., how the industry has become more open to gender diversity — and the work that's still left to be done.
How did the initial idea for this jewelry collection come about?
I've been wanting to do some charity for a while. I wanted to pick something that I cared about and that was a bit personal. The name of the brand [I worked with] is Sam H Snyder. I loved their jewelry; they've given me some stuff before and they suggested doing a jewelry collaboration. I thought it would be a great way to combine a charity with that because I'm a fashion model, and I thought that made sense to do a line and give the proceeds to charity.
Are there any jewelry designers who you were inspired by or looking at in the start of this process?
I love costume jewelry, the stuff Givenchy/Riccardo Tisci do, and old school rock 'n' roll jewelry, too. I actually love the look of men's rings and men's jewelry even more than women's, so it was important for the jewelry to have a [masculine side.] I don't spend a fortune at Tiffany's. I like power dressing and it was important to me for the pieces to be strong and bold and make a statement.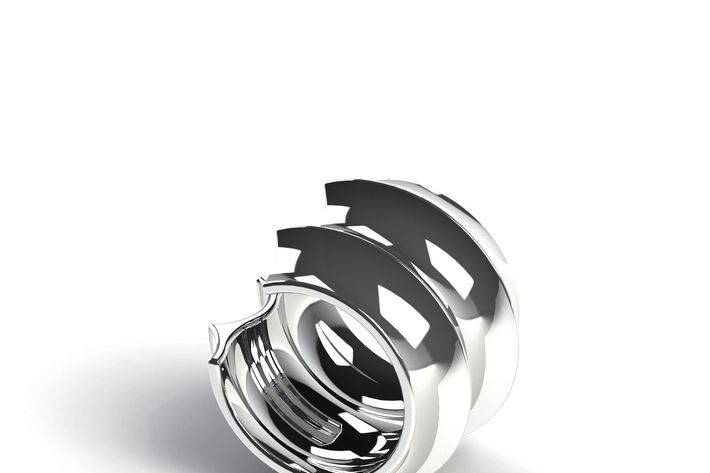 Do you intend for the jewelry to be worn by both men and women?
I think anything can be worn by both men and women. I think there are pieces for both though, definitely. I don't think it's strictly one or the other.
So tell me a little bit about why you chose for part of the proceeds of the sales to go to the Ali Forney Center?
The first time I came to New York — and the first time I saw the movie Paris Is Burning — I learned about the homeless LGBT culture in New York City that goes back to the '80s. I found that very interesting and it's definitely something that I care about. It's a community that I'm part of and it made sense for me to go with them. I was lucky to grow up in a family where your parents loved you no matter what you were, or what you came out as, and a lot of kids don't have that ride.
Since you began modeling in 2010, your career has really taken off. How have things changed for you: on a personal level, and on a perception level?
I mean, so many things have changed. I've grown up since then. I started out as a teenager, [and] I'm 22 now. I feel older because the experience has definitely shaped who I am today and it's given me the confidence and I've definitely grown. Things happened very quickly. I started off doing high fashion, editorial stuff purely. I was getting a lot of media exposure and it sort of kept going. Now I'm at a point where I definitely want to brand myself more. I love modeling and I want to keep doing it for as long as I can.
Everyone and their mother is branding themselves these days. You have Naomi Campbell doing TV, which you know five years ago you'd never imagine. So, I think in this century you have to be multidimensional and you have to expand cover more than just one field.
Do you imagine a lifestyle brand for yourself one day?
Maybe. I'm very — this was a great opportunity to do this for charity, and you know, jewelry I definitely care about. Going forward I definitely will — any sort of product I do — will have a personal association with me. And [a] practical thing too that's been missing from our lives and I imagine should be on the market, rather than just pure design.
Tell me a little bit about you book. It's an autobiography, and you started this project because you felt your story needed to be told?
Told from my point of view. I think a life of a human being is not something you can explain in a few interview questions. The stuff you do in the media is sometimes a great reflection and sometimes not a great reflection of who you are as a person. So I think I have an interesting story and interesting background. It was kind of taking things in my own hands. It feels sort of liberating and that's why I wanted to do it, to explain who I am to the world from my point of view, because even though I've had a lot of exposure I haven't exposed myself completely.
Do you think the world is still confusion out there about you and who you are?
Yeah, definitely. That's kind of been a defining characteristic of my career.
How would you describe what people currently think about you?
For me, it was always very important to not be labeled and restricted and placed in a box. And have a label stamped and be typecast. That's what I always try to steer away from, so I didn't reveal a lot of things about how I felt about some things, or on a emotional level. It was important to keep my privacy throughout all of this. So I think the book is kind of a step away from that. It's kind of me, more exposed than I've ever been. I think the time is right, and I feel comfortable, and I feel confident.
So you're going to answer in the book questions that people may have about your gender and sexuality?
Yes, exactly. All out.
I know you've been very private since the beginning of your career, and when we last spoke it was certainly that way. Have you opened up over the past few years?
Over time, yeah. In the beginning, that's how you model, to be a high-fashion model — I mean normally, you're not even doing interviews, but because I had so much attention from the media, it was very important for me to kind of keep the image under control and have it complement my career. But over time, as I became more comfortable, and I could see that people could like me for who I am — I opened up more, definitely.
So it's a little about growing up.
Yeah, it's a little bit about that. I think everyone's scared. Every person just wants to be liked. That's something you carry on from high school, and you just kind of want your peers to like you, and then sometimes you. So it's just about being yourself and I think over time I've definitely grown and built up the confidence.
So when you were profiled in New York you said that you wanted your gender to be open for "artistic interpretation."
That was a career strategy, you know, and it was successful.
When you say it was a career strategy, you mean that creating ambiguity was a strategy?
Well, you know, I mean I had the physical ambiguity already, it was just about going with that on some level. I think I did that successfully.
Was there a turning point when you decided not to have that narrative anymore?
I think that those elements still exist. I still model as both a man and a woman. I don't constrict myself.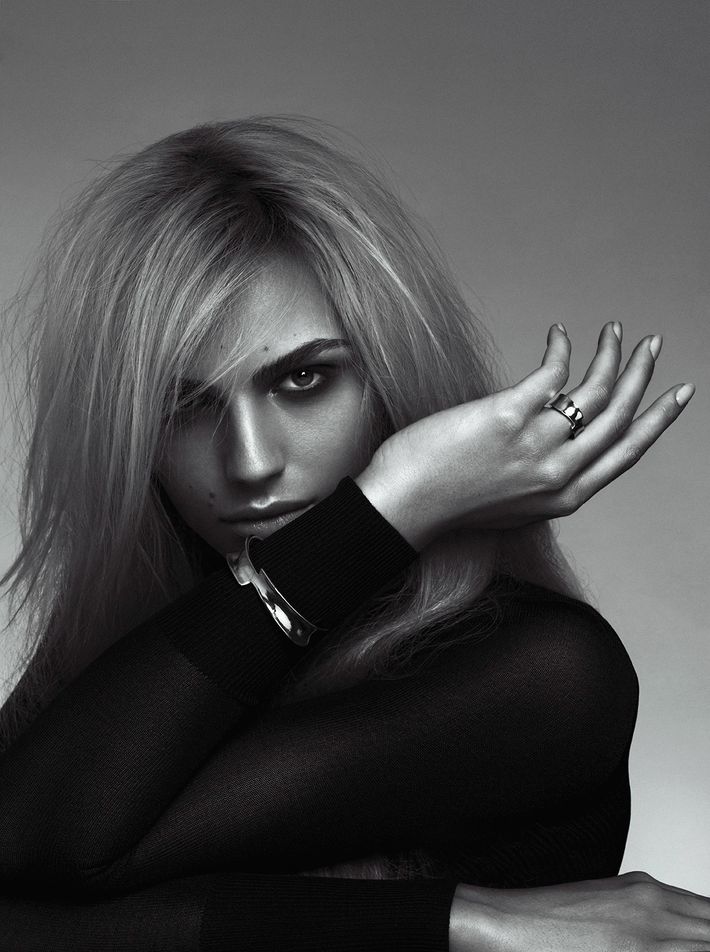 Are you more clear now about how you want to be identified?
I still, to me it's like, I say I live life in-between. That's kind of been the case, well, since I was a teenager.
The industry has also changed around you as you've been working these last few years. There have been some important moments for the LGBT community and androgyny.
When me and Lea [T] came out, we started a wave of androgyny and the whole in-between thing and now this, from that, I think now the fashion industry is definitely more open to androgyny and to a transgender model. You know I think it's early stages, you know, I say it's like African-American models in the 90s in the industry. It will take time for it to be completely integrated. But yeah, it's a beginning. It's really cool.
Do you feel attitudes have changed toward you in a way from when you started?
Oh yeah. I started out and people were like, "What are you?" and "Who are you?" We don't want to put you on the men's board, and don't know who to market you to. There was just a lot of confusion. And I feel like that I've sort of broken the ice, and I've sort of proven that I can be successful and not change. I think that that definitely changed the way people see me, I think I have more respect than I did in the beginning. And yeah, I think that's by the amount of new faces coming out that are androgynous or trans it shows that.
When you say there's still work to be done in the industry, what do you mean?
The day when it's not a big deal is when it's going to be done. The day when a transgender model is cast for a show and you don't even think about it. If she has the right look, she gets the show. It's not like, "Should she be in the show because she's trans?" It comes down to what modeling is really about: what you look like. So when that discrimination is gone, and when it becomes obsolete, is when it's done.
Are there other design goals that you have?
Hmmm. I would like to do like a unisex line at some point. I think that would be interesting, at this point. I think that's where fashion is heading, that's the future. I think it's so hard for a brand to come out like that because there's still a structure and, like, different buyers need to know if it's men's or women's. I think that's probably going to change soon.
I have to ask you what you were saying on our way in: [that you are going to be president one day.] Do you have political aspirations, or was that a joke?
I'm very political. I've had to be, you know, born just before the war. When I was a teenager, it was very important for me to find out what happened then and what happened with what politics, how's it been, things like that. So I'm a political person. I don't know if I would ever make it a career because I feel like when you make it a career, you lose. When you make it a career, you have to end up discarding everything.
Would you be a Hillary 2016 voter? Do you vote here?
I can't vote, but no probably, not.
I hear that your brother has a tattoo of you? Is that true?
Yeah, he does. One of the first shoots I ever did was for French Vogue. The picture that came out with a rose in my mouth. It wasn't the cover, but it might as well have been because it got so much coverage. I see it on T-shirts, I see it everywhere. So he decided to do that on his arm. He wanted to get my name, and I said, "You may get sick of my name, but you won't get sick of my face."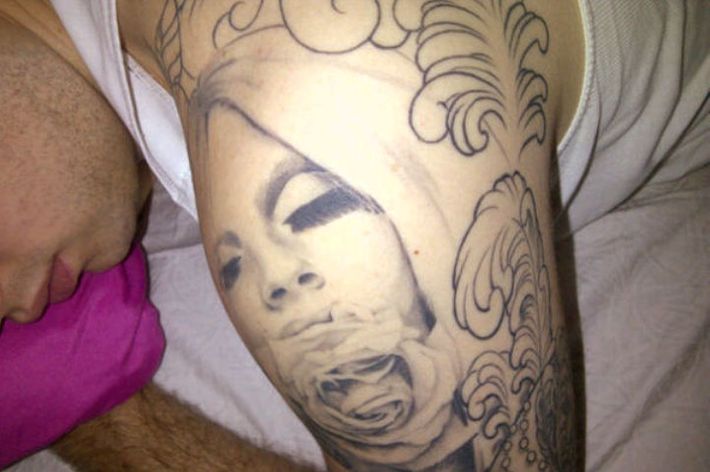 This interview has been edited and condensed.