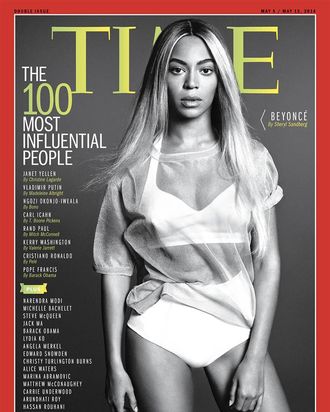 What a day for Beyoncé! She's on the cover of Time's 100 most influential people issue — pantsless, but it's okay because you don't need pants to be a boss, as evidenced by her title of "Boss."

It's a most momentous occasion for the singer. Her co-luminaries include Hillary Clinton, Kerry Washington, Phoebe Philo, and Donna Tartt — definitely good company. But the accompanying Sheryl Sandberg–penned blurb reveals that Beyoncé has ascended to the rank of fully formed pop-feminist icon.
With the Sandberg endorsement, she's shed the empowered jilted-lover spokeswoman and diva status that earned her a spot on the 2013 Time 100 issue (as "Diva"). After her year as the hardest-working mom on the world-tour circuit, a Chimamanda Ngozi Adichie sample, a handful of  DGAF innuendos about self-love and championing lady parts, an essay about gender equality, and her very own Lean In commercial, the transformation is complete. Beyoncé's guide to feminism is forthcoming.
Sandberg writes of Bey, "… her answer to the question, What would you do if you weren't afraid? appears to be 'Watch me. I'm about to do it.' Then she adds, 'You can, too.'"

Inspiring stuff. I am truly inspired, even though I've been Beyoncé-watching for some time now, and I still can't figure out the mechanics of her Power Woman hair whip.