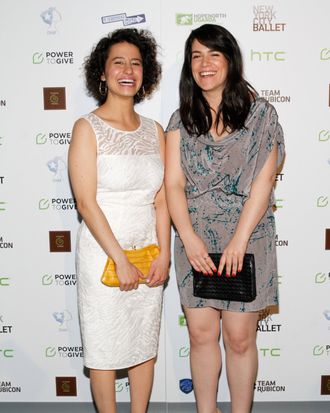 Photo: Mireya Acierto/Getty Images
The Broad City duo — Abbi Jacobson and Ilana Glazer — have realized that they've got something in common with their comic influences. They talked it through with the Cut at the Variety Women of Power lunch sponsored by HTC One.
Jacobson cited Gilda Radner, "She was the performer that stood out from that era. I related to her. I don't know what it was — maybe it was that I had frizzy hair — " and Glazer jumped on that train. "I was just going to say! Roseanne Roseannadanna for me was like, Oh, she has my hair!"
Jacobson confessed that, so interested was she in Radner's character, "I have made a life-size cutout of that character for my art class. Pre-straightener." You always want to go pre-straightener for any artsy homage.