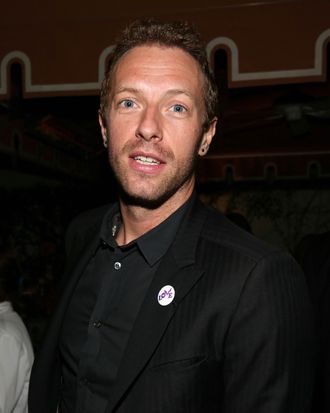 Photo: Imeh Akpanudosen/Getty Images
In his first interview since his public "conscious uncoupling," newly single lamb Chris Martin is presenting his version of events. They are like Gwyneth's, but with more self-blame and more lyrical soft rock. For example, he told BBC Radio 1:
About two years ago I was a mess, really, because I can't enjoy the things that we are good at and I can't enjoy the great things around me because I'm burdened by this … I've got to not blame anyone else and make some changes.

I wouldn't use the word breakdown — this was more a realization about trying to grow up, basically. If you can't open yourself up, you can't appreciate the wonder inside. So you can be with someone very wonderful, but because of your own issues you cannot let that be celebrated in the right way.
In conclusion, he is to blame for the C.U., because he has trouble dealing with things that are both great and wonderful. It's his fault that he can't celebrate things in the way that they should be celebrated.
Sometimes, even after you've left something, you've still got that taste of Kool-Aid in your mouth.