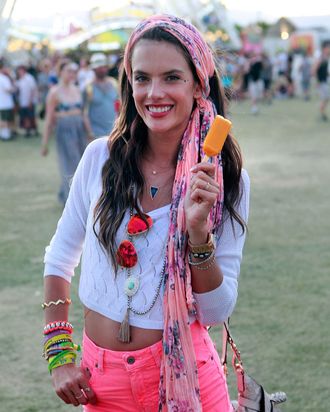 Photo: Todd Oren/Getty Images
The one thing that Coachella-goers won't be packing next week: extra pounds. Well and Good reports that the Coachella Music Festival has spurred the Coachella Diet. The pressure to look street-style worthy in denim underwear on the best weekend of their lives is intense, as one woman interviewee told the site:
There's more competition style-wise now. The number of Coachella virgins increases every year, and, if anything, they're really into the image aspect.
But far from calculating the number of calories you can burn from mosh-pitting, festivalgoers are doubling up on workouts. Some are even smuicing (smoothie/juicing) and pounding out calories using weighted "drumsticks." Carrying less weight around will make it easier for festivalgoers to sprint between the Sahara and Mojave tents and gesticulate wildly and argue with other music-lovers about "how Coachella was so much better when it was only one weekend." Just remember that no amount of dieting will make your Indian headdress fit in with culturally appropriate standards.