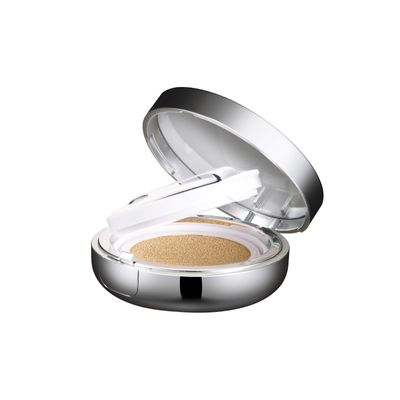 Meet cushion compacts. You may have noticed them last year, but they are back, "Hello Again," Lionel Richie–style. Past the BB creams and CC creams, cushion compacts have been the skin-coverage option of choice in Korea for the past two years. At yesterday morning's Marie Claire Global Beauty Summit, Marie Claire Korea beauty editor Ahn So-young revealed that she uses one called the Mister Cushion Compact — after which attendees could be heard murmuring, "I want to see this Mister Cushion Compact."
The cushion compact is like diet BB cream: same great coverage of a BB cream, but extra light in texture. Unlike BB creams, which come in a tube, cushion compacts use a round, circular sponge that magically spring loads formula onto your finger when you press into it. Press deeper, and the sponge floods with more formula.
Backstage at Fashion Week, makeup artists are constantly reducing — reducing foundation by adding Embryolisse or moisturizer, so it doesn't look too "done" or "heavy." The cushion compact is like the end result of all that reduction, giving your skin an easy, smooth, radiant finish. Our editorial director, Stella Bugbee, used this before her last TV appearance and was dazzled by how easily it covered redness. It's also well suited for use in warmer weather, as it stays preternaturally cool and typically boasts SPF of 50 plus, which is rare to find in skin-coverage options.
The only detriments are its limited shade selection and the sponge applicator that comes with each cushion compact (I ignore it completely, and use a wet Beauty Blender instead). Currently, Amore Pacific, Laneige, and 3Lab all have cushion-compact versions.