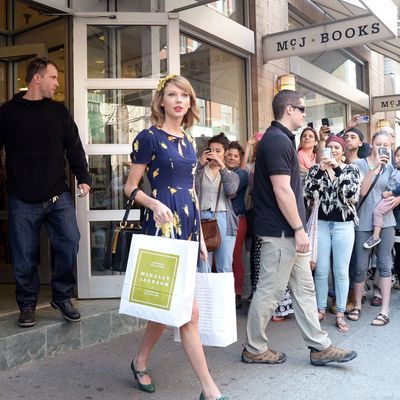 Photo: Raymond Hall/Getty Images
Taylor Swift was spotted shopping at a bookstore yesterday, and not just any bookstore — McNally Jackson, the literary heart of Soho. Fans gathered outside to gawk, and since "Taylor Swift carrying big bags of books" probably falls somewhere between Reading Rainbow and Oprah when it comes to inspiring literacy, they were perhaps moved to make a few purchases. But what is Taylor reading? the internet wondered. The McNally booksellers would not say.
The Cut has a few suggestions.
1. The Scarlet Letter, Nathaniel Hawthorne: This lyric — "'Cause you were Romeo, I was a scarlet letter" — makes it seem like maybe you haven't read The Scarlet Letter. That's okay; it's never too late!

2. I Love Dick, Chris Kraus: A not-so-veiled account of Kraus's infatuation with the critic Richard "Dick" Hebdige, in which she converts her desire and his rejection into art (much to his displeasure). Think of it as your Dear John prototype.
3. Was She Pretty?, Leanne Shapton: More ex thoughts, plus pictures.

4. The Love Affairs of Nathaniel P., Adelle Waldman: To inspire both empathy and ire for the shortcomings of past and future man-children.
5. How Should a Person Be?, Sheila Heti: Since you seem to be on a female-friendship kick right now. (And this is required reading before boarding the Lena Dunham friendship train.)

6. The Sisterhood of the Traveling Pants series, Ann Brashares: We know you like gal pals with magical matching outfits.
7. Bossypants, Tina Fey: To better understand why we should all be Team Tina.
8. Save Me the Waltz, Zelda Fitzgerald: Take your Fitzgerald fandom to the next level. Also, you could totally hit a song from Zelda's point of view out of the ballpark. Southern belles, tortured young love, the agony of celebrity — get on it.

9. Tiny Beautiful Things, Cheryl Strayed: Maybe you read Wild? This other book by Strayed, based on her Rumpus advice column, seems like it might be your jam: sharing secrets, giving hard-earned advice.

10. Just Kids, Patti Smith: Because moving to New York City can be transformative.

11. Delta of Venus, Anaïs Nin: Because we want some Beyoncé-level, sexually empowered vagina references on your next album.

12. The Silent Woman, Janet Malcolm: So maybe you didn't have a Plath phase, but whatever. Maybe you'll have one soon.
13. Bluets, by Maggie Nelson: It's a book of little fragments about the color blue and desire and FEELINGS: Reading it is blue like you've never known. Plus, perfect for erratic on-tour reading opportunities, Significant Gifts, etc.
14. The Dialectic of Sex, Shulamith Firestone: There is, alas, no "feminist section" at McNally Jackson — despite early reports. But don't let that stop you, Taylor! Go crazy!
15.  The Goldfinch, Donna Tartt: For conversation material in case of forced communing with normals on the subway.