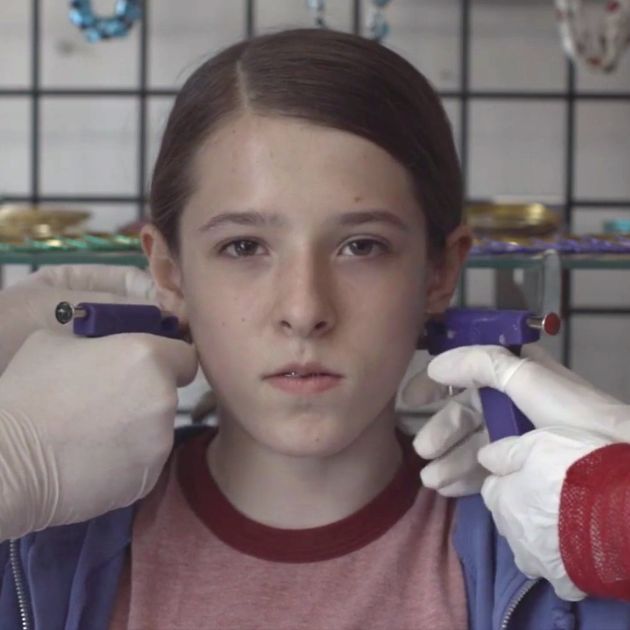 Even in a Lena Dunham world, it's important to remember that 95 percent of film directors are still men. That statistic, from the Centre of Study for Women in Television and Film, prompted Dazed to launch a new initiative for women directors.
Females First is a project that will provide funding and support to young female filmmakers whose short films will then debut online at Dazed. The first one is already up — Needle, by Iranian-born, Chicago-based Anahita Ghazvinizadeh is an affecting 20-minute study of a girl getting her ears pierced during her parents' breakup. It was chosen by the director Jane Campion, one of a panel of influential women in film who are helping to find the best young talent.
Females First will screen a new film every month for at least a year, and is the brainchild of Dazed's video commissioning editor Jennifer Byrne. The Cut spoke to Byrne about her hopes for the project.
Tell me about Females First and where the idea came from.
I've gone to a few universities to talk about how I got into my career, and afterwards, boys come up to you and say, "I want to be a director." They're very confident. And then girls come up and say, "Oh, I was thinking about perhaps, maybe getting into film in some way. I thought maybe I could be a producer. What do you think?" You talk to them and you realize they've got loads of ideas. I think sometimes it's a lack of understanding of what a director is: It's just having a perspective and a story and knowing how you want to tell it.
I've worked in film for ten years and not much has changed. There are the same amazing women at the top lamenting the fact that there aren't enough young women picking up the camera. So I thought, well, rather than us just moaning about that — we've got a really young audience and a lot of them are women. If we can highlight the fact that women are out there making films and telling their stories, then hopefully it will inspire some of our younger readers to know that they can do it too.
You've started by showing an existing film that won an award at Cannes last year — but isn't the idea that you'll be helping directors to make new films?
Yes, that's right. We broke our own rules with the first one, just to establish the strand and show the types of films that we're hoping to make. The way it will work in the future is that we're getting together a team of, for want of a better word, ambassadors or "grown-ups" — people like Gillian Wearing and Jane Campion. We're asking for submissions from young filmmakers, and then we'll ask one of these ambassadors to select a treatment, which we'll commission — and we'll support the filmmaker all along the process of getting it made.
Will you be giving them funding?
We'll provide them with a small pocket of funding — £3,000 to £5,000. We're an independent magazine, so we can't afford a decent commissioning budget, which is annoying — if only we had £20,000 to give each filmmaker. But we can offer a lot of support in kind — we can help them get good deals on postproduction, locations, and cameras. We've also got an amazing platform and audience.
The first film is Needle, by Anahita Ghazvinizadeh. I loved it, though I found it quite sad.
Yes, it's very moving. We thought it was a great example to start with, because the lead character is a little girl going through a female rite of passage — the action of getting your ears pierced. And the film has a strong narrative perspective. I would really like Females First to be a narrative-based strand, as opposed to commercials or music videos, so that it's a true expression of the directors.
Are you asking for submissions at the moment?
We've got a pool of women who we're reaching out to for the first couple of months, and then there will be open submissions. Actually, we're already getting lots of emails from people, with lots of good ideas. Some of the initial ideas have been really, really funny — women can do comedy very well. Ultimately the aim of this project is to make good work. It's not just about supporting women — the work has to be bloody good.